Introduction
Arabic is the liturgical language of 1.8 billion Muslims, and Arabic is one of six official languages of the United Nations. It is a Semitic language that first emerged in the 1st to 4th centuries CE. It is now the lingua franca of the Arab world. It is named after the Arabs, a term initially used to describe peoples living in the Arabian Peninsula bounded by eastern Egypt in the west, Mesopotamia in the east, and the Anti-Lebanon mountains and Northern Syria in the north, as perceived by ancient Greek geographers. With over 300 million native speakers in 26 countries, Arabic is the 5th most spoken language globally.
Now many of you have questions: How easy is it to learn Arabic?
So I am here to give all the answers to your question. As many of you have heard Learning Arabic is hard. But now there are many myths that surround the Arabic language. Few are:"Arabic has too many exotic sounds, impossible to learn for foreigners."Not true. There are only two or three sounds which are not found in English and these can be learned easily through imitation.
"Arabic has an enormous vocabulary: 400 words for a camel, 200 for a lion, etc." Not true. Ancient poetry has a very complex and varied vocabulary. But the vocabulary of Modern Standard Arabic is no more complex than the vocabulary of any other modern language. "Arabic grammar is impossibly complicated."
Not true. Its verb system is quite easy. For example, there are just two tenses – past and non-past. Now we will look at what makes Arabic easy to learn?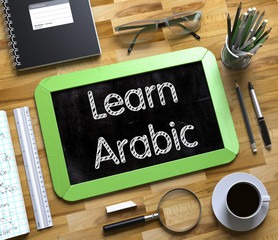 Learning Arabic:
Easy Verb conjugation
If you've ever thought (sorry, thought) about it, English and the other common European languages taught (sorry, taught) in school, are full of irregular verbs. That's why really young kids will say things like "he hated me" – they haven't got hold of the idea yet that in English, we don't always form the past participle using the –ed ending. Arabic has nothing of the sort. The verb conjugation table is bigger than English (with singular, dual, plural, masculine, and feminine categories), but once you've learned the table for one verb, you're done. There is indeed a category of verbs called "weak", which are sometimes thought of as irregular, but in fact, each group of weak verbs (e.g. hollow verbs, defective verbs) follow a completely regular pattern, which is tweaked slightly from the basic verb conjugation table.
Learn one word, get dozens freer
Being a Semitic language, Arabic has a derivation system, whereby from a single root (defined as a three-letter combination), you can derive a whole array of related meanings. So from the root 'a-l-m we get the verbs 'alima (to know), 'allama(to teach),a'lama (to inform),ta'allamal (to learn), ista'lama (to inquire). Furthermore, the way each of these verbs is related to the basic root 'a-l-m also helps with vocabulary acquisition. So whereas 'alima (to know) is the simple form verb, 'allama (to teach) is a 2nd form verb (the middle root letter l is doubled), and we use the 2nd form for causation. So literally 'allama means to cause someone to know, and therefore to teach. Similarly, ta'allamal (to learn) is the 5th form, which is a reflexive of the 2nd form. So ta'allamal literally means to cause yourself to know, and therefore to learn. And again ista'lama (to inquire) is the 10th form, which is used for requests. So ta'allamal literally means to request to know, and therefore to inquire.
Easy Pronunciation
Although learning Arabic involves learning an entirely new alphabet, once learned, you can benefit from the fact that (1) Arabic is written phonetically, so every word is spelled exactly as it sounds, and (2) there is no correct intonation to learn in Arabic (which in English would have to be read "there is no correct intonation to learn in Arabic"), as all syllables are equally stressed. Arabic certainly has its fair share of challenges but you might find that it's a whole lot easier to understand and get along with than you had thought.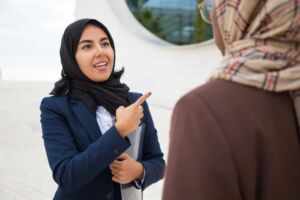 Nothing is easy in the world, it's you who makes things easy. Your dedication, your consistency, your patience and your daily learning schedule make learning Arabic is easy. Also, there are some factors which are mentioned above that make Arabic easy to learn. 
And if you want to master in Arabic, join Multibhashi, one of the best language learning apps. Join now by clicking here.