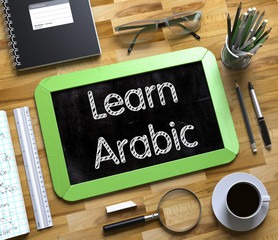 Introduction:
First of all, no one in this world is just picture perfect and doesn't have any flaws. So, just to remind you that "Weakness" is not for you alone, everyone has their weakness. However, it won't hold you back if you are willing to do everything with all the heart. So, you don't have to worry about your Arabic language learning and consider yourself weak. This article will surely help you out. Now, let's get started with some information about the Arabic language. Arabic is one of the oldest, greatest, and sacred languages in the world. It is also known for its eloquence and wisdom. Maybe it is the most powerful and wisest language of all. Arabic nowadays is an official language in more than 20 countries. Arabic is the mother tongue of more than 300 million native speakers. It is spoken by more than 420 million around the world, coming at 5th place among all languages. 
The language today is sacred to over one and a half billion Muslims around the world. Arabic is usually ranked among the top six of the world's major languages. As the language of the Qur'an, the holy book of Islam, it is also widely used throughout the Muslim world. It belongs to the Semitic group of languages which also includes Hebrew and Amharic, the main language of Ethiopia. 
Let's now discuss some useful platforms from which you can learn and improve your Arabic language. 
Platforms from which you can improve your Arabic language:

UDEMY 
This learning platform provides the best learning opportunity for beginners and intermediate as well. This course is going to give you the ability to learn the Arabic language smoothly and easily, with a lot of new features that make learning easier and more efficient. We never use boring teaching methodologies, but fun, interesting, and attractive ones. This course includes both PowerPoint recorded videos and Camera videos, to make sure that I can deliver the best way of teaching to you. This course includes the easy part, which is good for beginners, and the part where things become serious, and it becomes even more difficult, such as level 2 Grammar and vocabulary, then to level 3, and so on. Afterward, you will be ready to start reading intermediate Arabic books, newspapers, and much more. To know further details you can have a look by visiting www.udemy.com 
ARAB ACADEMY 
Arab Academy is a world-recognized, leading provider of online Arabic language courses. They offer a range of over 292 courses for all ages, experience levels, and interests. Whether you are already fluent and simply looking to improve your skills or have no previous language experience, they have an online Arabic course specifically for you.
It also possesses the most extensive library of online Arabic lessons that incorporate fun and interactive activities, task-based learning, and 1-on-1 lessons with our qualified native-speaking teachers. Arab Academy also has its very own Arabic Language Proficiency Test that has become the world standard for Arabic language proficiency. It is accepted by accredited universities, businesses, and institutions from all around the world. So, I recommend you to have a look at its website www.arabacademy.com 
MULTIBHASHI 
When it comes to effective learning, 'MULTIBHASHI' is one such platform that is worth mentioning. It is utilizing the power of the internet to help learners learn new languages through one's native language. Besides serving as a platform for learning languages, Multibhashi also provides various translation and transcription services along with creating content for various purposes in multiple languages. It also offers self-paced learning that any learner can utilize in leisure /off-working hours, thereby, making this a more viable and affordable solution to the target segment. With all these features they are mastering in teaching new students. So, it is high time for you as well to improve your Arabic with this amazing platform. All you have to do is visit its website at www.multibhashi.com 
Finally,
After reading this article, I hope you must have some new ideas and ways of learning to improve your Arabic language. However, learning a language is a challenge at some point but it is 'You' who is going to make it happen. Don't forget to stick to your first decision about why you wanted to learn Arabic. Hard work and perseverance through your learning journey will help you achieve your goal.