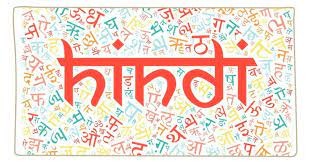 Introduction:
Hindi, also known as Khadi Boli, Khari Boli, belongs to the Indo-Aryan branch of the Indo-European language family. It is spoken as a first language primarily in northern and central India by more than 258 million people. Hindi is the primary official language of the Union government of India. It is the primary tongue of about a third of India's 1.09 billion people. Hindi became the official language of India in 1965, although the Constitution of India also recognizes English plus 21 other official languages.
After the Independence of India from Britain in 1947, the Government of India undertook the standardization of the language. In 1958, 'A Basic Grammar of Modern Hindi' was published as a result of the work of a government-appointed committee. Hindi spelling was standardized, and a standardized system of transcribing the Devanagari alphabet was devised. There are many regional varieties of spoken Hindi. Literary Hindi has 4 varieties: High Hindi, Nagari Hindi, Literary Hindi, and standard Hindi. The sound system of Hindi is fairly typical of Indo-Aryan languages. Hindi is a direct descendant of Sanskrit through Prakrit and Apabhramsha. It has been influenced and enriched by Dravidian, Turkish, Farsi, Arabic, Portuguese, and English. It is a very expressive language. In poetry and songs, it can convey emotions using simple and gentle words. It can also be used for exact and rational reasoning. Literary Hindi, written in the Devanagari script, has been strongly influenced by Sanskrit. Its standard form is based on the Khari Boli dialect, found to the north and east of Delhi. Braj Bhasha, which was an important literary medium from the 15th to the 19th century, is often treated as a dialect of Hindi, as are Awadhi, Bagheli, Bhojpuri, Bundeli, Chhattisgarhi, Garhwali, Haryana, Kanauji, Kumayuni, Magahi, and Marwari. However, these so-called dialects of Hindi are more accurately described as regional languages of the "Hindi zone" or "belt," an area that approximates the region of northern India, south through the state of Madhya Pradesh. Occasionally there are demands for the formation of separate states for the speakers of one or another regional language. Such demands are generally neutralized by country demands for the recognition of that regional language's many dialects. For instance, when the demand for the formation of a separate state of Maithili speakers was raised in Bihar in the 1960s and 1970s, there was a counterdemand for the recognition of Angika in eastern Bihar and Bajjika in northwestern Bihar. The successful demands for forming the new states of Chhattisgarh (from territory once in Madhya Pradesh) and Uttaranchal (from territory in Uttar Pradesh) were more sociopolitical than linguistic.
How to learn Hindi?
Whatever your motivation for learning the language, the resources below are organized around different skill sets, from expanding your vocabulary to improving your conversation skills. Start practicing some basic sentences in Hindi right away! Learning a new set of alphabets/scripts is going to take time. 
Learn phrases that are in practical and daily use first.

Learn Basic Grammar.

Vocabulary. 

Make mistakes! And from mistakes. 

Practice, practice, practice!
There are many online platforms offering Hindi, one of them is Multibhashi that offers a wide range of online language learning programs.  
The best online courses, apps, and videos to learn Hindi:

For beginner vocabulary, reading, and listening skills;
Go through an online or download the app on your phone, it is very easy to learn without going anywhere. Multibhashi offers you:  
Affordable pricing: Relish the joyful learning experience for a lifetime at an affordable price. 
Highly qualified language experts: choose from a wide range of highly qualified and dedicated language experts. 
Customized curriculum & Personal Training: no universal curriculum for all learners! Everything is customized according to a learner's needs and fluency level.