Introduction
Sanskrit language is a classical language of South Asia belonging to the Indo-Aryan branch of the Indo-European languages. It arose in South Asia after its predecessor languages had diffused there from the northwest in the late Bronze Age. Sanskrit is the sacred language of Hinduism, the language of classical Hindu philosophy, and of historical texts of Buddhism and Jainism. It was a link language in ancient and medieval South Asia, and upon transmission of Hindu and Buddhist culture to Southeast Asia, East Asia and Central Asia in the early medieval era, it became a language of religion and high culture, and of the political elites in some of these regions. As a result, Sanskrit had a lasting impact on the languages of South Asia, Southeast Asia and East Asia, especially in their formal and learned vocabularies.
Sanskrit belongs to the Indo-European family of languages.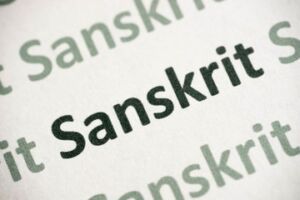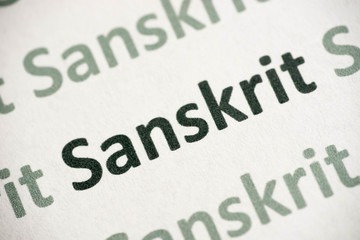 Ways to learn:
Use Full Sentence Flashcards
Everyone knows that flashcards are a great way to learn new vocabulary. But for Sanskrit beginners, flashcards will work best with full sentences as opposed to individual words or characters.
Do a little bit everyday 
If you're serious about learning Sanskrit, you have to practise every day. A one-hour class per week just isn't going to cut it.  By making Sanskrit study a daily habit you'll likely add up more hours than if you went for one monster study session once a week.
Audiobooks:
Audiobooks in simple terms means that a set of recorded files is available in the form of a digital platform that you hear instead of being read aloud. There are audiobooks available in Sanskrit language which you can listen to improve your skills in this language.
Talking to a person who knows this language: You can always choose to talk to that person who knows this language. You can ask them to see how you are interacting with them in Sanskrit and give you feedback that will improve your skills in this language.
Listen to Sanskrit Radio
Listening is an integral part of oral communication skills. If you can't understand spoken Sanskrit well, you won't be able to hold a successful conversation, no matter how good you are at speaking. Listening to Sanskrit radio channels is a really good way to improve your Sanskrit listening as well as speaking skills. You can install Sanskrit radio apps on your smartphone or use websites to listen to your favourite Sanskrit radio channel.
Listening to radio can be more effective than watching visual media like movies or drama because on radio you focus only on sounds. 
Youtube: 
Youtube plays an important role in learning any language. There are various videos available on this platform which you can utilize to improve your speaking and reading skills. You just need to watch these videos to see how the people are interacting with each other in this language. It will improve your skills in this language.
Apps: 
Apps play an important role in our digital life. We all love our smartphones and have downloaded apps like multibhashi An online platform to learn languages effectively and effortlessly.  Similarly, there are other apps also available that you download from play store, which will help teach you this language and help you improve your skills in this language.
Watch TV shows & movies with subtitles-
Many people love to watch Sanskrit variety shows, dramas, or anime. They help you get used to the ways natives speak and the words they use. As it is effortless to read the subtitles, they are just enjoying the story and not listening carefully to the Sanskrit language. As a result, to improve your listening, you should focus on listening to the Sanskrit without looking at the subtitles
Review and Repetition Is The Key!
This is probably the number one mistake students make. They concentrate on learning new material, and forget to review the older one. Rule of thumb: for each hour spent learning a new Sanskrit vocabulary or conjugation, you need to spend a minimum of one hour reviewing older Sanskrit material. Repetition is the key!
Keep it interesting by learning the things you want to learn.
I listen to Sanskrit radio, Sanskrit pop songs, read Tintin in Sanskrit and even  Sanskrit YouTubers. For me, finding a Sanskrit or girl speaking passionately about something in Sanskrit really made me want to listen.