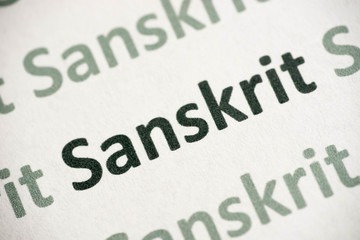 Sanskrit is an ancient Indian language.  It is a holy Hindu, Buddhist, and Jainism language and the root of the majority of Indian languages. In India today approximately 14,000 people use it as their everyday language. This is one of India's 22 official languages and one of Uttarakhand's official languages.
Sanskrit is an old Indo-Aryan standard dialect. Its language, history can be traced back to the proto-Indo-European language. The Indo-Aryan theory suggests that during the early part of the 2nd millennium BC Indo-Aryans moved from the Central Asian steppes to South Asia and brought in the Indo-Aryan language with them. Devanagari is the main script for writing Sanskrit, but it is written in various Indian linguistic scripts and also in Latin.
Learning Sanskrit provides the most rational advantage in preparing a psyche for sensible thinking, in providing a clear articulation, in creating wise strength and in providing sharp awareness of the consequences of terms.
Why should you learn Sanskrit Online?

Sanskrit is the oldest and the mother of all languages. Most of the world's languages are affected by Sanskrit, and the similarities of the different languages are striking. By learning Sanskrit, you can learn every other language on the planet immediately and can use it as soon as possible.
So, if a kid begins early online Sanskrit, he or she may speak clearly. This not only helps the brain improve comprehension skills in speech therapy but also. Children who enjoy Sanskrit learning online can excel in topics such as mathematics, chemistry, astronomy, and physics. This language also has proved to enhance the brain function and cognitive ability of a person due to vibrations caused by the pronunciation of Sanskrit words. Research has shown that Sanskrit students from an early age have been better off than those who have not.
Sanskrit is a culture as well as a language.­

The sounds and pronunciations of Sanskrit are extremely important. It's a phonetic language with a strong emphasis on assertiveness. Words are nothing more than sound vibrations, and certain sounds have the ability to alter items on an atomic level. This system of words, when spoken correctly, can alter your emotional and psychological state, which is why it is known as the "language of gods" in India. It's also known as Apaurusheya, which means "not produced by men," in contrast to other languages that are the product of human culture. The Vedas and holy Hindu scriptures are all written in Sanskrit, confirming their status.
What are the benefits of studying Sanskrit online?
Sanskrit is a phonetic language, and Sanskrit learning plays an important role in pronunciation. Students take Sanskrit online courses to explain sounds and speech step by step. This helps you to build confidence in Sanskrit more quickly.
Subjects such as Sanskrit, Vedic, Arabic, and Islamic Studies are not easy to teach privately. They fail hard to find a good teacher, even though students wish to study them. The students will benefit from learning Sanskrit online as they can study at their leisure with the aid of a dedicated teacher. Students have access to the records and can review their lessons before they are fully understood.
It is the most structured language, the flow of Sanskritic language is organized. This means that Sanskrit learning is not subject to static or concrete methodology. Since multi-bhashi aims to make learning enjoyable instead of a chore, modules are developed so that students can make phrases, make simple translations and simultaneously learn the basic grammar of Sanskrit. In this way, no individual could follow the conventional way of learning.