Introduction
Arabic is the language of the Arab world that is known for its rich culture and heritage. The Arabic language is the sacred language for the followers of the Muslim religion. It is the language of the Holy Quran. Arabic has many dialects and it is an old language. Arabic and its many dialects are the official languages of 27 countries, and around 292 million people speak Arabic as their native language. The Arabic language is also one of the official languages in The United Nations. Therefore, Arabic is a new sensation for many new language learners. 
Many institutions online and offline are providing Arabic language classes under various programs. For example, the level of classes differs for each level of learners. Basic Arabic programs are for basic Arabic learners, intermediate programs are for intermediate level learners, and advanced programs are for advanced level learners. Among online and offline programs, online programs are better as they can be accessed anywhere and anytime. 
Let us see the list of some Best Programs for Learning Arabic.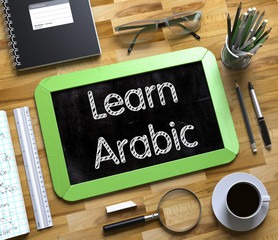 Best Programs for Learning Arabic
1. Madinah Arabic:
Madinah Arabic is the best course available for beginners. The program is best for those who want to polish the basics of Arabic. Madina Arabic offers complete and free courses for Arabic reading grammar and morphology. Video lessons, vocabulary-building lessons, and quizzes are also available for free. Charts and audio lessons are available to make you clear in pronunciation and recognition.
2. Arabic Daily
Arabic is a complex language. The grammar and composition in Arabic are tough and therefore anyone who wants to learn the language has to be clear in grammar. Arabic daily is the best program available online for those who want to learn Arabic grammar easily. 
3. Arabic online
ArabicOnline offers programs for all three levels of language learners with certificates. The prices vary from level to level for each program. self-guided
4. Qasid Arabic Institute
The Qasid Arabic institute provides services for language learners in classical Arabic and Levantine Arabic. The institute also offers the course in modern standard Arabic which is the best program for all those who want to settle in Arabic countries professionally. The general time taken for the completion of the courses is 30 weeks. The program offers interaction sessions, group sessions, and one-to-one doubt solving sessions. This is a pocket-friendly course that provides you the best modern Arabic language guidance.
Multibhashi Arabic language learning program offers you the best programs available for basic, intermediate, and advanced level learners. Multibhashi Arabic Learning course is a pocket-friendly course that is designed for those who want to learn Arabic quickly and easily. The Multibhashi language learning program offers you notes, audio and video lessons, sessions with experts, and practice sessions so that you can be fluent and confident while speaking Arabic. To access the Multibhashi Arabic Learning course, visit the Multibhashi website and you can also download the Multibhashi language learning app. The app is free to download and gives you basic knowledge before taking the classes. 
So, what are you waiting for? Book your seat today in the Multibhashi Arabic Learning Program to brighten your future in Arab Countries. All the best!