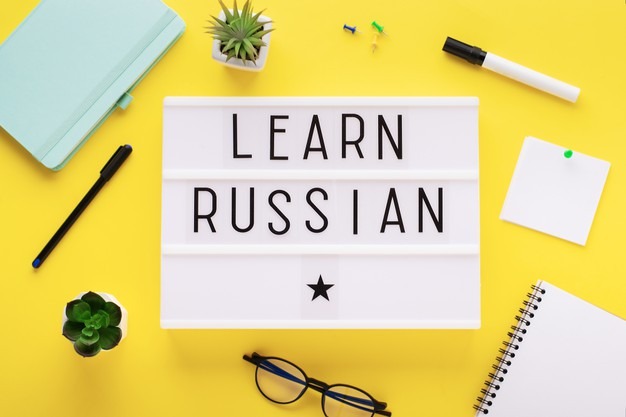 Introduction-
If you want to learn Russian then you have come to the right place. Russian language is an East Slavic language native to the Russians in Eastern Europe. It is an official language in Russia, Belarus, Kazakhstan, Kyrgyzstan, and is used widely throughout the Caucasus, Central Asia, and to some extent in the Baltic states. Russian belongs to the family of Indo-European languages, one of the four living members of the East Slavic languages alongside, and part of the larger Balto-Slavic branch.
Russian is the largest native language in Europe, and the most geographically widespread language in Eurasia. It is the most widely spoken of the Slavic languages, with over 258 million total speakers worldwide. Russian is the seventh-most spoken language in the world by number of native speakers and the eighth-most spoken language in the world by total number of speakers. The language is one of the six official languages of the United Nations. Russian is also the second-most widespread language on the Internet, after English.
One question usually comes to everyone's mind "why and where to learn russian?" here is your answer, The land of Russia itself is a huge answer to the question "Why learn Russian?".  If you can, visit the country and get a taste of its tongue even if, unlike me, you've no intention of living and working there and becoming a lifelong explorer of the place and its culture. And here is the answer to your "where", you can learn Russian through an online learning app.
So In this blog we will discuss where someone can learn Russian online from 0 to advanced? 
Some of the online lessons to learn Russian from 0 to advanced

1. Multibhashi
Multi-Bhashi provides online classes to learn the Russian language from 0 to advanced and it is one of the perfect online courses for beginners to learn the language. There are two main ways to get to know Russian with MultiBhashi, either by signing up for one-to-one courses online or by teaching yourself using a lot of self-study content.    
The classes are based on the subscription: You sign up for a monthly package and can add additional classes if you like. The lessons are usually made in Russian, but if you are a total beginner you can recommend an English instructor.
Meanwhile, the self-study resources include grammar guides, graduated readers with sound recordings, video courses, and practical exercises,are of well advanced. So, with proper instruction, you will have to develop your own tasks and tools for tests. However, you can use a wealth of knowledge to organize your study with the help of MultiBhashi.
2. Russian for Free
The basics of any language start with the alphabet.
Russian for Free is a handy website that teaches many language topics—it's particularly useful for its interactive lesson on the Cyrillic alphabet.
You'll explore how the letters look, listen to their pronunciation, and read examples of how they're used in common Russian words.
3. Learn Russian
Once you've memorized the Russian alphabet, you can move on to learn the beginning Russian vocabulary.
Learn Russian offers 100 different vocabulary lessons to familiarize you with common Russian words. The words are conveniently organized in alphabetical order and offer English translations.
4. Everyday Russian 
This source separates materials by low-intermediate, intermediate, and upper-intermediate lessons. It has a series of online lessons that focus on verb conjugations, which are essential for expressing yourself in any context in Russian.
Each lesson focuses on one or more verbs, spelling the verb out, explaining how it's used in various tenses, and providing verb derivatives with examples of usage. Some lessons let you hear how the words sound with audio tracks.
5. Librivox
Once you've gotten comfortable with Russian words, see them come alive in Russian books. Combine your written and auditory knowledge by seeing Russian in print in an e-book and listen to the accompanying audio pronunciation.
           LibriVox is a website that encourages volunteers to read books in many languages, including Russian. Each book entry provides the title in English and Russian, its author, genre, and a brief synopsis.
6. Rus4me
Access a vast library of videos with subtitles, annotation, and notes to help you better understand colloquial Russian as it's used by native speakers.
The subtitles have accent marks to help you improve your pronunciation—and you'll need the help as Russian words aren't easy to pronounce!
You also get a full transcript of the video in Russian and can click certain words for more information.
7. Luch Sveta
To truly understand the intricacies of language, you need to understand the culture associated with it. Or is it the other way around? Research has found that our language dictates the way we think, so it's important to learn about the Russian language and culture simultaneously in the advanced stages of your studying.
With Luch Sveta, you can learn about Russian culture and modern Russian life by watching the news from Russia. You'll hear modern Russian and see Russia as it is today. The accompanying articles provide helpful context for both the video topic and language use.
8. FluentU
Many beginning language learners will focus first on flashcards and textbooks, waiting until later to hear how native speakers sound.
Resist this urge! Absorbing authentic Russian right from the get-go is crucial for listening comprehension and building good pronunciation habits. You'll also learn how to use Russian vocabulary in context, rather than memorizing words blindly.
Conclusion:
So, as mentioned above, all the online lessons are great to gain knowledge of the Russian language from level 0 to advanced.
All the best!!!