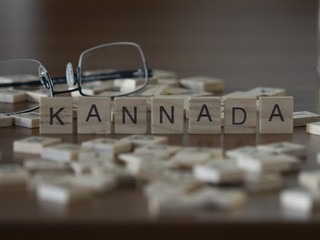 Introduction:
Kannada is the state language of Karnataka, one of four southern Indian states. It is one of the official languages of the Republic of India. It is written in the Kannada language. Kannada is nearly as ancient as Tamil as the oldest of the Dravidian tribe. The Dravidian script, the official language of Karnataka. More than 33 million inhabitants speak it in Karnataka and another 11 million Indians speak it as the Second Language. The oldest inscription documents in Kannada dating back to the 6th century. Kannada's language is closely connected with the original Telugu script.
Kannada has a variety of regional and social dialects and major differences in formal and informal use.
Kannada has an unbreakable traditional meaning that dates back a thousand years. Kannada literature has won eight jnanpith awards, making it the most commonly accessible Dravidian language and the second highest in India. Based on the recommendations of the Committee of Linguistic Expedites appointed by the Ministry of Culture, the Indian government has declared Kannada to be a classical language of India.
Kannada was the state language of some of South and Central India's most dominant empires, including the Chalukya, Rashtrakuta, Vijayanagara, and Hoysala dynasties. Kannada is written with the 'Kannada' script developed in the 5th century by Kadamba. Kannada was gradually developed over a half-millennium, with Old Kannada flourishing during the Ganga dynasty of the sixth century and the Rashtrakuta dynasty of the ninth century.
This is a very old history of the Kannada language, and to learn it, you must first understand its history and origins. Various institutes have different curriculums for studying the language, and you can enroll yourself to gain a thorough understanding of the language.
Best Kannada Courses in India:
Despite its newness, the Koramangala Kannada learning school is rapidly gaining popularity. They hold conversational Kannada classes and use social media to effectively teach Kannada. Consider online coaching or a correspondence course if you can't attend classes regularly. The Central Institute for Indian Languages offers a Kannada distance education course. This institute also has many online sites where you can study Kannada.
The institution's innovative teaching approach alters students' thoughts and behavior when confronted with real-world problems. They also provide a fantastic teaching experience that will undoubtedly help a learner in achieving language excellence.
Vidyamurth is a language center that enables you to quickly learn the nuances of Indian languages such as the Kannada language that are essential for day-to-day communication in a variety of situations. They use cutting-edge teaching methods and program structures to help you learn the language quickly and easily.
Learning the local language provides reputation, appreciation, and confidence, and a fresh and exciting adventure. It improves the quality of life by instilling a sense of belonging in the community, this indirectly the aim of the institute to provide better language learning.
For the past 5 years, the Kannada Gottilla group has been teaching conversational Kannada in an efficient yet simple manner. The lessons are set up so that you can practice whenever it is convenient for you during the day. Some key points to consider before deciding on us: 11 mentors, 22,000 students, 11 countries, and 36 live classes.
KannadaGottilla.com makes learning Kannada a convenience. You will choose a course that you need to learn and will be given individual attention if you are a beginner or already know a little Kannada. You must choose what best fits your requirements from the standardized plans and enroll in the course. Receive notifications about the course and batch info within 15 days of registering, and you will be assigned to a group and notified of the start dates via email; then you can begin learning!
Finally,
Kannada has a literary history that dates back over a thousand years. It was the court language of some of South and Central India's most powerful kingdoms, including the Chalukya, Rashtrakuta, Vijayanagara, and Hoysala dynasties.
Thus, it is a sacred language and a must-know language for a keen learner.