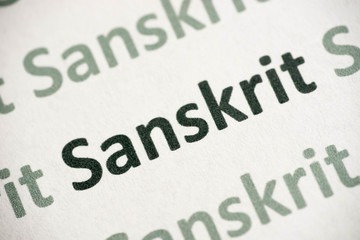 Introduction:
The Sanskrit language is a classical language of South Asia belonging to the Indo-Aryan branch of the Indo-European languages. It arose in South Asia after its predecessor languages had diffused there from the northwest in the late Bronze Age. Sanskrit is the sacred language of Hinduism, the language of classical Hindu philosophy, and of historical texts of Buddhism and Jainism. It was a link language in ancient and medieval South Asia, and upon transmission of Hindu and Buddhist culture to Southeast Asia, East Asia, and Central Asia in the early medieval era, it became a language of religion and high culture, and of the political elites in some of these regions. As a result, Sanskrit had a lasting impact on the languages of South Asia, Southeast Asia, and East Asia, especially in their formal and learned vocabularies.
Sanskrit belongs to the Indo-European family of languages.
Best institutes for learning Sanskrit are:
1. Jagadguru Ramanandacharya Rajasthan Sanskrit University
Courses offered-
Shastri, Acharya, Shiksha Shastri, Shiksha Acharya, Sanyuktacharya (integrated), Yog Vigyan Shashtri, Yog vigyan Acharya, Vidyanidhi, Vidyavaridhi (equivalent to PhD), Vidyavachaspati, Certificate/Diploma in Jyotish Shastra and Certificate/Diploma in Vastu Shastra.
2. Kameshwar Singh Darbhanga Sanskrit University
Courses offered-
Uphastri, Shastri (Pass), Shastri (Pratushtha), Siksha Shastra (BEd), Acharya (Vyakarana), Acharya (Sahitya), Acharya (Veda), Acharya (Jyotish), Acharya (Darshan), Acharya (Dharmashasta), Acharya (Fine Art and Music), Vidyavaridhi, Vidyavachaspati and PhD in Vyakarana, Sahitya, Veda, Ganit and Phalit Jyotish, Darshan, Dharmashasta, and Ayurveda
3. Karnataka Samskrit University 
Courses offered-
Sanskrit, Shastri, Acharya, Vidyavaridhi, Vishishtacharya, Manuscriptology, Vidyavachaspati, Jyotishya, and Yoga
4. Kavikulaguru Kalidas Sanskrit Vishwavidyalaya
Courses offered-
BA in Sanskrit, Additional Sanskrit, Pali, Vedanga Jyotish, Vedic Studies, Yogashastra, Civil Services, Professional (Vyavasaik), Keertanshastra, Travel and Tourism, Yoga, Naturopathy and Dietetics, Fine Arts and BEd.
MA in Sanskrit, Keertanshastra, Yogashastra, Vedanga Jyotish, Fine Arts and MPhil Sanskrit.
PG Diploma in Computer Application, Vedanta and Sanskrutam, Buddhist Studies, Teaching Sanskrit through English, Yogic Sciences, Appreciation of Indian Art and Environmental Management.
Diploma in Dance, Sanskrit Agam, Sanskrit Sadhana, Sanskrit Parichaya, Prakrit, Purana, Jainology, Ayurved, Ecology, Yogashastra, Pali, German Language, Vastushastra, Vedanga Jyotish, Ramayan and Mahabharat, Indian Culture and Values, Music, Upanishadas, Yoga, Naturopathy and Dietetics, Functional Sanskrit and Indology.
5. Kumar Bhaskar Varma Sanskrit and Ancient Studies University
Courses offered-
PG courses in Sanskrit Studies, Ancient Studies, and Humanities.
MPhil/Ph.D. courses in Language Studies, Culture Studies, Religion Studies, and Scientific Literature Studies.
6.The Sanskrit College & University
The Sanskrit College and University are among the first higher-education institutions in the state of West Bengal to introduce the CBCS. There will be six semesters in the 3 years B. A (Honours) program. It consists of 14 Core Courses, 2 Ability Enhancement compulsory courses, 2 Skill Enhancement courses, 4 Discipline Specific Elective courses, and 4 Interdisciplinary Generic Elective courses. They also offer Post Graduate courses in Sanskrit so you can pursue your career in the same language.
7. Women's College
The department of Sanskrit has its own seminar library. They are lenient in borrowing and lending books. They try to help their students with necessary books from their personal collection also. The Department of Sanskrit aspires to prepare students by focusing on their overall development. The students are advised to participate in different co-curricular activities provided by the college and also outside the institution. The teaching method involves study material along with PowerPoint presentations. The department of Sanskrit aims to provide students with a conceptual foundation in the discipline and its various sub-disciplines.