Do you like watching movies? That's great! Cause then you'll surely like this post!
Do you want to learn a language? as well as have fun? Well, Easily done! Just watch a movie!
We have bought a great set of movies for you that I think you will really enjoy as well as improve your English.
So, grab some popcorn and enjoy!
Things to keep in mind!
First of all, watch movies of genres that you really like so that they will keep you interested.
Use subtitles so that you are easily able to understand the movie,
Maybe, watch movies that you have already seen.
Watch with friends- so that all of you can enjoy it!
Repeat your favorite quotes from the movie.
Observe how they are speaking English.
Learn the common English slangs and idioms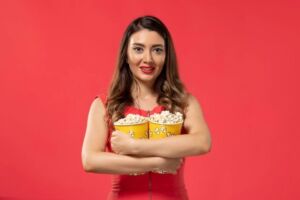 Forrest Gump:
"Life is like a box full of chocolate. You never know which taste you will get"
Synopsis: Slow-witted Forrest Gump (Tom Hanks) has never thought of himself as disadvantaged, and thanks to his supportive mother (Sally Field), he leads anything but a restricted life. Whether dominating on the gridiron as a college football star, fighting in Vietnam or captaining a shrimp boat, Forrest inspires people with his childlike optimism. But one person Forrest cares about most may be the most difficult to save — his childhood love, the sweet but troubled Jenny (Robin Wright).
Why watch it: Forrest Gump is a life story, a bit on the slow side but interesting nonetheless. It has very good pronunciation, simple to understand, and really easy to follow. You will also learn about the Vietnam war, which the US was involved in, so it adds a little bit of history.
Jurassic Park:
"Life finds a way."
Synopsis: In Steven Spielberg's massive blockbuster, paleontologists Alan Grant (Sam Neill) and Ellie Sattler (Laura Dern) and mathematician Ian Malcolm (Jeff Goldblum) are among a select group chosen to tour an island theme park populated by dinosaurs created from prehistoric DNA. While the park's mastermind, billionaire John Hammond (Richard Attenborough), assures everyone that the facility is safe, they find out otherwise when various ferocious predators break free and go on the hunt.
Why watch it: The great thing about this movie? It has dinosaurs, so it will keep you interested. Also, it has some typical words related to science that you will learn in this language. It uses everyday language which is quite easy to understand.
About Time:
"All the time travelling in the world can't make someone love you"
Synopsis: When Tim Lake (Domhnall Gleeson) is 21, his father (Bill Nighy) tells him a secret: The men in their family can travel through time. Although he can't change history, Tim resolves to improve his life by getting a girlfriend. He meets Mary (Rachel McAdams), falls in love, and finally wins her heart via time-travel and a little cunning. However, as his unusual life progresses, Tim finds that his special ability can't shield him and those he loves from the problems of ordinary life.
Why watch it: It's one of those movies that really inspires you to change your life and live life to the fullest. The relationship between Tim and his father is something that is worth watching in this movie. It's really a family movie with British pronunciation. Really easy to understand English with a bit of philosiphy.
Men In Black:
"You can have my gun when you pry it from my cold, dead fingers."
Synopsis: They are the best-kept secret in the universe. Working for a highly funded yet unofficial government agency, Kay (Tommy Lee Jones) and Jay (Will Smith) are the Men in Black, providers of immigration services and regulators of all things alien on Earth. While investigating a series of unregistered close encounters, the MIB agents uncover the deadly plot of an intergalactic terrorist who is on a mission to assassinate two ambassadors from opposing galaxies currently in residence in New York City.
Why watch it: Do you aliens? Futuristic gadgets? Then this movie is for you. There is a great student-teacher relationship between Jay and Kay that is adorable. Plus English is really easy to understand with some scientific terminology so that you can increase your vocabulary. Pronunciation is American-English.
The Kissing Booth:
"You can have my gun when you pry it from my cold, dead fingers."
Synopsis: A high school student finds herself face-to-face with her long-term crush when she signs up to run a kissing booth at the spring carnival.
Why watch it: A teenage romantic comedy that is entertaining and pretty easy to understand!
Stuart Little:
"Talk to the butt."
Synopsis: When the Littles go to an orphanage to adopt a new family member, a charming young mouse named Stuart is chosen. While George is initially unwelcoming to his new brother, the family cat, Snowbell, is even less enthusiastic about having a mouse as his "master" and plots to get rid of him. Against these difficulties, Stuart resolves to face them with as much pluck, love, and courage as he can muster. In doing so, he shows his beloved new family that great things can truly come in small packages.
Why watch it: Stuart little vocabulary is pretty easy since it's a kids movie. But don't misunderstand, adults enjoy it a whole lot too.
Shrek:
"Donkey, You Have The Right To Remain Silent. What You Lack Is The Capacity."
Synopsis: Once upon a time, in a faraway swamp, there lived an ogre named Shrek (Mike Myers) whose precious solitude is suddenly shattered by an invasion of annoying fairy tale characters. They were all banished from their kingdom by the evil Lord Farquaad (John Lithgow). Determined to save their home — not to mention his — Shrek cuts a deal with Farquaad and sets out to rescue Princess Fiona (Cameron Diaz) to be Farquaad's bride. Rescuing the Princess may be small compared to her deep, dark secret.
Why watch it: Do you like sarcastic swamp monsters? And non-stop talking donkey? Cause these are the main characters of this movie. A comedy through and through which both adults and kids can enjoy!
These are some great movies that have a very simple easy to understand English. Both your listening and speaking skills are guaranteed to improve and watching a movie is a great way to jump into English when you're too tired to do anything else (like reading). So, be sure to give these a try!