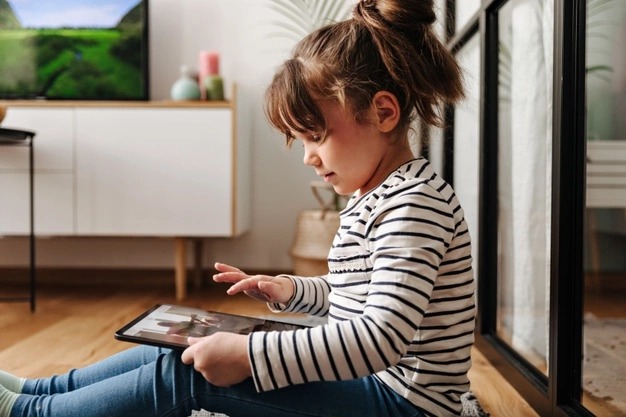 Online learning is an academic method that takes place over the web as a type of distance education. Distance education became present as a result of the COVID-19 pandemic throughout 2020. Due to these circumstances, on-line teaching and learning had an important role in babyhood education schemes, although debates continue on whether or not or not it's helpful for young kids to be exposed extensively to data and Communication Technology (ICT). 
Impact of online education on little children:
Missing peer interaction:
When students learn from home, they miss out on instruction from one of their best teachers: Their peers. They miss out on social development as they do not come into contact with children of their own age. Going to classrooms and having fun with your friends is bliss that everyone should get.
Too much screen time:
Increasing vision issues with frequent headaches are attributed to prolonged screen time. Additionally, increasing anxiety and depression because of home confinement together with sleep disorders are on the increase.
Health issues:
Obesity in children is on the rise either due to lack of outdoor physical activities or due to binge eating and easy availability of junk food at home. Children are losing their muscle mass and adding fat which is going to affect their growth.
Learning issues:
Imagine a kindergarten student sitting in front of a laptop learning numbers. Do you think he\she will be able to learn properly? Absolutely not! These little buggers with short attention spans will soon be attracted to other interesting things and not pay enough attention. It's even more impossible to get them to sit in front of the screen for a long period of time. So online education for little children is redundant.
Unfair to students with special conditions:
Children who are autistic or have ADHD simply can't learn from online classes. They need more care and personal teaching from qualified teachers. It is unfair to ask them to study from online classes.
Limited Growth:
Lack of vitamin D and physical exercise can stunt a child's growth especially at a time when they are rapidly growing.
Conclusion:
It is no doubt that online learning brings a no. of benefits to students but at the same time, it can bring a lot of disadvantages especially to little children. What are your opinions about this? Do mention in the comments below.