Motivating Students
People who study new languages benefit from this so much. They obtain practical knowledge, learn valuable lessons about other cultures, and discover outside of their own a whole new world. English-speaking countries, however, have by far the lowest interest in the learning of foreign languages. Recent studies have shown that not more than 7% of U.S. college students are interested in a language course. But how are you able to inspire students to learn a different language? Look at the tips below to get started.
7 tips to motivate students
1. Explain the benefits
You should be smart enough as an instructor to illustrate the advantages of studying languages to your students subtly. Try to understand how it is gratifying and helpful to learn foreign languages. You may also add that with better academic performance, language learning correlates. This is also applicable to career and self-development.
And keep reminding students that not everything is about English; in the science and political world, other languages such as Chinese, Spanish, or French are commonly spoken and used. Additionally, if you suggest that learning one more language will make them look smart among their peers, students would probably consider it worthwhile.
2. Let them know the results of learning
Every once in a while, let students see their learning outcomes; it's up to you to choose how. There are many ways to do this but bear in mind that young people are typically impatient and yearn for your hand for some motivation.
It can be achieved by arranging a language-speaking club with discussions that they have already mastered on the particular subject. Introduce ratings and targets for gamification components so that students can enjoy achieving outcomes through the proper use of foreign language. Any technique that makes learners feel proud of their success is true.
3. Let art help you
Involving art in the language course is often very practical. Popular culture is always a good tool to attract the attention of students. Feel free to include in the learning process movies, songs, interesting stories, or even cartoons. It will help young scholars to become acquainted with the content and to learn through association.
You can immerse them in language and culture conversations with any art that you consider unconventional or exciting. The outcome will most likely be an open discussion about the subject, which will ultimately lead to a better understanding of the language they are learning.
4. Make them use the language
The basic precondition for language learning is theoretical knowledge, but it is even more important for young learners to practice what they learn. Therefore, for them to use the language, you should create possibilities. From time to time, you can invite native speakers and arrange debates, where many students will understand what they do or don't know.
Of course, mistakes are a natural part of this process, so you have to provide assistance and encourage learners not to give up expressing their opinions in a foreign language. The more they talk, the more they will understand.
5. Use realia, flashcards, stories, and songs in teaching
Realia and flashcards are considered essential tools in education, especially a foreign language. They play the role of a facilitator in teaching new vocabularies such as fruits, vegetables, clothes items, etc. Also, realia is an authentic material that helps the teacher to overcome classroom artificiality. Teachers can demonstrate techniques of using songs in different ways to teach grammar, vocabulary, pronunciation, pronunciation, and community building. According to the teacher, the students like songs and motivate them to learn the English language in an exciting way. The teacher can elicit students' ideas about the song through activities such as prediction, mind maps, and word splashes.
6. Using audiovisual material: cassette player, video, computer
Teachers should use these materials when teaching because our schools are equipped with various audio-visual materials such as cassette recorders, videos, computers, projectors, magic boards, and many others. Indeed, while planning their lessons, they should include the appropriate material to use. For example, we can include a cassette player in a listening-based lesson, while we need to include a computer in every e-lesson or a lesson about designing your school's website or internet page. Whereas, in presenting writing drafts for classroom correction or reading, we should use an overhead projector.
7. Give rewards
We have already stated that language learners need help and support from time to time, but it should be one of your top priorities, as a nice incentive is always the best way to keep them motivated and engaged. Offer the best students your praise, but also accept the awareness of the most committed students or those doing any extracurricular activity.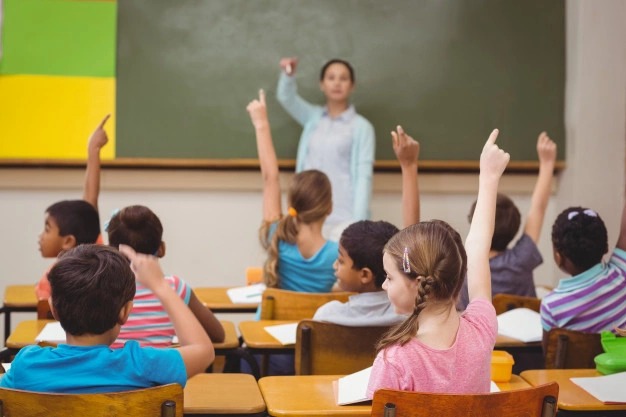 With enough dedication and passion from their teachers and parents, it's not too difficult to make them more interested. An excellent combination of teaching techniques and practical lessons will be able to motivate and inspire students to learn faster and more effectively. Keep our 7 tips in mind when giving a language lecture, and you'll find the results much better and the job more satisfying.