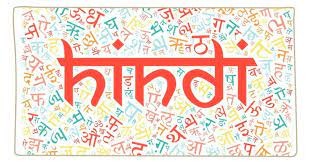 Hindi or Modern Standard Hindi is an Indo-Aryan language spoken in India. Hindi, written in the Devanagari script, is one of the two official languages of the Government of India, along with the English language. Hindi is also one of the 22 scheduled languages of the Republic of India. It is an official language in 9 States and 3 Union Territories and an additional official language in 3 other States. 
Hindi is the fourth most-spoken first language in the world, after Mandarin, Spanish and English.
Even outside India, Hindi is spoken in many parts of the world. Nepal has the second-largest group of Hindi-speaking people. Surprisingly, the United States has the third-largest group of Hindi-speaking people. One-third of the Mauritian population speaks the Hindi language. Elsewhere too, Hindi has spread in almost all the parts of the globe on a greater scale. Indians took the language with them wherever they went, taught it to other people, and started using it in conversations with them, thereby increasing the number of Hindi-speaking people around the globe to a great extent! They, many times, speak with each other in Hindi even when they are settled outside India, or are traveling in the company of fellow Indians.
After reading the above, one should have no doubt about the reach of the Hindi language and the scope that one can have in career, education, business, etc. after learning Hindi.
Where can one learn Hindi from?
There are many sources to learn Hindi from, a few of them being as follows:
A beginner in Hindi learning can get acquainted with letters in the Hindi alphabet with the help of Hindi learning books for beginners. Similarly, core Hindi vocabulary or basic Hindi words can be learned with the help of these books. Books for intermediate levels or advanced Hindi learning are also available in stores as well as online for reference.
This is an interesting way to learn the basics of Hindi. Mostly storybooks for kids have colorful pictures or images which make learning Hindi all the more interesting for them.
Educational podcasts and youtube videos
Many language instructors upload videos giving knowledge in small chunks to their subscribers in the form of podcasts.
Hindi newspapers and magazines
This is one really trustworthy source that develops a reader's vocabulary very fast. Moreover, one can learn various proverbs, idioms, and phrases through this medium, and use them in one's communication.
News channels help in developing especially the listening and comprehension skills of a listener and/or viewer. One gets to know a lot about voice modulation, pitch, tonality, diction, etc. from news channels.
Hindi television shows, movies, or web-series with subtitles
Watching Hindi shows with subtitles in Hindi itself is quite an interesting way of learning how to form sentences, and of developing one's vocabulary. Shows can be based on any topic or subject of one's interest, may it be a cookery show, cartoon, movie, web-series, or a debate, anything!
Hindi learning online apps
Online language learning apps apply fun ways for teaching languages to users by the way of quizzes, short stories, daily small tests.  
Online Hindi learning classes
The best source to learn Hindi is, however, an excellent online course to attain proficiency in the Hindi language. Language training institutes have transformed themselves into edtech platforms that conduct sessions via audio-visual mode, and facilitate real-time interaction between an instructor and a student. A student can watch the movements of facial muscles of the instructor to understand how to pronounce a particular word. Similarly, he or she can listen to the style and tone, the pitch of the instructor to understand voice modulation for various sentence formats. A learner can see how to write each letter stroke – by – stroke. At advanced stages of Hindi language learning, a student is given complex text to read and comprehend, which improves his or her reading skills. Thus, during an online Hindi learning course, all the parameters of language learning such as listening, speaking Hindi, reading and writing Hindi, and comprehension are paid attention to and are developed effectively. Moreover, an online course can be taken from anywhere, any corner of the world, and at timing suitable to one.
One can learn Hindi by self-studies, but one can attain proficiency in Hindi by learning systematically from a Hindi language expert who knows the knack of creating experts by polishing the language skills of novices.  
Conclusion:
So these were some ways to gain proficiency in Hindi. The most important thing to remember is that one should be consistent while learning anything new and the fruit of efforts will come soon enough.
Be patient!
Keep learning!