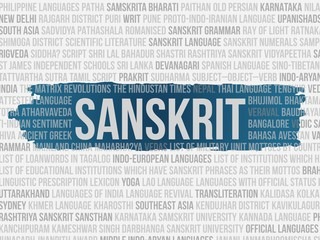 The Sanskrit language is very ancient. Though no conclusive evidence is found, Sanskrit is believed to originate from an earlier Indo-European language. Indo-European is an extrapolation language, and no written evidence is available. The qualified saints say many things, but they agree on one aspect: Sanskrit is a very ancient language.
A 7 Step Guide to Learning Sanskrit:
1. Determine your reasons
We all are human and it is not always easy to stay focused. But being clear as to why you are doing it will reawaken your motivation in the first place. For example, I remember why I did it when I lost motivation to write and learn.
Then ask why the new language you are studying. Why is it a pleasant language to learn? Should your opportunities be broadened? Or because you want to talk to a native speaker, expand your cultural awareness, or leave your comfort zone.
2. Pick your method of learning
The choice of your learning method and material is part of the concept of obedience, which is one of three foundations necessary to learn the Sanskrit language. It means that you can do something if you have the right inspiration. And finding the right motivation begins by selecting the appropriate method of learning.
You must introduce yourself to a depth of the language that you want to read and watch different concepts given by the old saints of India culture.  You will lose motivation, and inspiration for learning a new language is important. So if you enjoy reading a specific fact, begin to read the fact in the language that you would like to learn.
3. Pronouncing Sanskrit Consonants
Arrange consonant sounds across their transcription stages. When the vowels are the breath tone, the consonants reflect a breath stoppage. When you speak Sanskrit words you avoid breathing in various parts of your mouth to generate the sound of consonance.
There are 5 Sanskrit pronunciation points relating to the portion of your mouth that stops airflow: the soft palate (just at the back of your mouth), hard palate, the strong bump around your teeth on the top of your mouth, your lips, and the teeth's foundation.
The Sanskrit alphabet is systematically organized, first by vowels, accompanied by consonants listed by their transcription points.
You only add the vowel to the beginning when you name a Sanskrit consonant.
4. Practice Honouring to elder people
Greetings other people politically by saying namaste. Sanskrit is seen as a sacred language and this represents the way people interact with one another using the language. Namaste is used for welcoming someone and leaving them at any time of the day.
Take care of your ways in Sanskrit speaking. Politicism shows respect both for the other individual and the sacred language. Dhanyavaadaha means "thank you" and is a term often used when speaking Sanskrit to people. Thank you as soon as possible when you talk.
5. Read Poetry and Sacred Books regularly
At least 34,000 texts were scanned in Sanskrit by the Indian Digital Library. This will enhance more knowledge and gives you more insights into the Sanskrit language. But without practicing the language you cannot read anything or words of a Sanskrit book. So, it is recommended to practice writing as well as reading the books equivalently.
6. Set goals and deadlines for yourself.
Setting goals for yourself while studying on your own is important so that you have something to aspire for. "How long do you want to take to learn the language?" is a question you must ask yourself.
Setting a practical deadline for yourself is vital because it gives you something to aspire for. You have more time to procrastinate if you don't set a deadline. When you've determined the deadline, you'll need to plan and arrange a time to reach it.
7. Find out how to speed up the process
If the learning process is to be accelerated, go for it! The truth is that people are sometimes motivated and avoid learning because the results are not easily obtained. There are ways to speed up the process while recommending patience, whether you choose to speak or write in the language.
It's time to set deadlines and plan each day. The habits of execution are mostly about motivation as they are. Therefore find a responsible mate and immerse yourself in the material and communication of man to maintain the motivation. That's how you learn new languages fast.
Conclusion:
So, this was the beginner's 7 step guide to help learners learn Sanskrit more efficiently. Hope it helped you!
Happy learning!