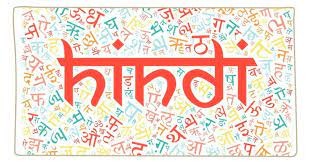 Introduction:
Hindi is an Indo-Aryan language spoken chiefly in India. Hindi has been described as a standardized and Sanskritised register of the Hindustani language, which itself is based primarily on the Khariboli dialect of Delhi and neighboring areas of Northern India. Hindi, written in the Devanagari script, is one of the two official languages of the Government of India, along with the English language. It is an official language in 9 States and 3 Union Territories and an additional official language in 3 other States. Hindi is also one of the 22 scheduled languages of the Republic of India.
As a linguistic variety, Hindi is the fourth most spoken first language in the world, after Mandarin, Spanish and English. Hindi alongside Urdu as Hindustani is the third most spoken language in the world, after Mandarin and English.
Learning a second language has nothing to do with age, gender, religion, or mindset. It is a skill that anyone and everyone can learn with the help of a few sources. Bilinguals have the unique opportunity to communicate with a wider range of people in their personal and professional lives. Knowing the language makes you a local no matter where you are, opening up your world literally and figuratively. You will be shaped by communities. So, let's move on to some of the ways in which you can learn Hindi on your own or with some help:
Learn Hindi on your own with these methods:
Start with the basics

– As is the case with most languages, it is useful to begin with greetings and pleasantries that are the most likely to come up in brief interactions with Hindi speakers. Introducing yourself to strangers is a critical skill to acquire. People will be more willing to help you once you have explained who you are. When entering a new area with a different culture and language, it is wise to learn the basic pleasantries and phrases of gratitude so that you can show good manners to your hosts.
Become familiar with the Hindi alphabet

– If you start with the alphabet, you will know how words are pronounced and be able to sound out unfamiliar words, even if you aren't sure what they mean. This can be a big help as you're trying to learn the language, especially if you want to ask a native speaker what a word means. Hindi is written from left to right in horizontal lines, just like English.
Immerse into Hindi Media

– With Hindi films, you have an opportunity to hear people having natural dialogue in the language. Turning on English subtitles will help you understand what's going on and what the characters are saying. 
Learn the alphabet

– Hindi's alphabet is derived from Kadamba and Cālukya scripts that, over centuries, morphed in Hindi and Telugu scripts. These scripts were formalized and translated into English script forms in the 19th century. The Hindi language is alphasyllabary, which means all the consonants have an inherent vowel sound in them. The pronunciation of certain Hindi words can be difficult for English speakers, as there are some sounds in Canarese for which English has no equivalent.
Purchase a good Hindi dictionary–

Oxford University Press publishes the gold standard of dictionaries, the Oxford Hindi-English Dictionary.

While smaller pocket dictionaries are fine if you just need to look up a word or two, invest in a more substantial academic dictionary if you are serious about more formal study.
Practice common phrases with a partner or with a recording-

Learning conversational Hindi is a great way to practice your alphabet skills and prepare you for lessons on basic Hindi grammar. Actually having a conversation in Hindi is the most important way to learn the language.

Find a friend in your language class or look online in language forums for individuals looking to practice their conversational Hindi. There are also recordings of basic phrases online that you can refer to.
Attend Indian cultural events–

If you live near a college or university, there will probably be a variety of cultural events hosted by international students. Many towns and cities with high Indian populations have festivals and other cultural events where you can meet new friends and learn about Indian culture. If there is an Indian or Hindu cultural center near you, you can check their events calendar or contact their organizer.
Conclusion:
So, try out a Hindi course, book classes with a teacher at Multibhashi.com, and start reading the imaginative novels of some of the greatest authors. It won't be long until you're speaking Hindi with confidence.
It turns out that there really is nothing holding us back after 40- there is no critical period for second-language learning, no biologically determined constraint on the language-learning capacity that emerges at a particular age, nor any maturational process which requires that older language learners function differently than younger language learners.
So don't worry and Start learning!!!