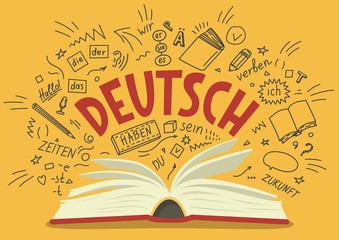 We are all aware that learning new skills requires time and effort. It took a long time for Rome to be established!
Whether it's a sport, a vocational matter, a new skill like playing a musical instrument, or working on a new computer, or something else, mastering it takes a significant amount of time. This law applies to learning a foreign language as well. You must spend some time and make sincere efforts to learn a language by heart if you want to achieve mastery and speak it fluently.
Should you study German?
Are you undecided on whether or not to study German?
Don't worry, I've compiled a list of some compelling reasons to study German in India.
Most widely spoken native language in Europe
In Europe, German is the common tongue of the majority of people.
It is spoken in more than one region. Germany, Austria, Switzerland, Liechtenstein, Belgium, and Luxembourg all speak it as their official languages.
German is a pluricentric language with origins across Europe, with countries such as Austria and Switzerland having their variants. The German language, spoken by over a hundred million native speakers and 185 million people worldwide, demonstrates its presence and popularity in the most straightforward way possible.
It is also one of the most widely taught foreign languages in the world. It is also a Central and Eastern European lingua franca.
Job opportunities worldwide
One of the most compelling reasons to learn a foreign language is the prospect of a better job.
It is Europe's largest economy, the world's fourth-largest economy by nominal GDP, and the world's second-largest exporter, making it a must-learn language.
In terms of engineering, they are world leaders and can give better job opportunities to people with better multilingual skills.
Fluency in German has opened up job opportunities in India in fields such as medicine and healthcare, education, logistics, automobiles, power and utility, mass media, entertainment, tourism, information technology, financial services, outsourcing, and many others.
In several of these international companies, having German language skills on your CV will help you advance your career.
Career Scope of German in India
Several multinational corporations with operations in India are searching for people who are fluent in German. It broadens the work prospects in India and abroad with German and international companies.
Business prospects prevail in Germany because of its economic strength.
The importance of learning the German language today is related to the many opportunities it provides. You will become a translator, a language teacher, a public relations agent, a logistics specialist, a media representative, and other interesting professions by taking a German language course. After learning German, you will have a plethora of career options, allowing you to gain visibility and continue to expand in the coming years.
Opportunities for studying
Every year, Germans take six weeks off and tour the world, spending a lot of money in the process. This influx of German visitors boosts the transport, tourism, and hospitality industries, highlighting the need for German speakers and translators. Candidates with a high level of German proficiency are preferred by major travel agencies, tourism firms, airlines, and hotel chains looking to increase their market and customer base. If you want to work in these fields, you'll need to know German.
The Literary, Musical, Film, Art & Philosophical World
Some of the greatest literary, musical, cultural, theatrical, and philosophical minds in human history have come from the German-speaking world. Many significant works have been written in German and are still being produced in that language.
Germany and Austria are both well-known for their outstanding music and movies. Knowing German helps you to experience these artists' masterpieces in their original, unfiltered form.
Every year, nearly 80,000 new book titles are published by German speakers. In terms of the number of new books published each year, it is ranked fifth. As a result, knowing this language broadens the horizons by providing insight into the way of life and hopes and aspirations of people in German-speaking countries.
German is popular in India
German is the second most common language in India, after French, and it is a tight contest. The Max Mueller Bhavan is a major government organisation dedicated to promoting the German language, and it is not a new investment; it dates back to the twentieth century. This body, which is affiliated with the German embassy, has promoted German to a large extent and attracted a large number of students to learn the language. There are numerous institutions in Delhi that provide a German Language Course taught by highly qualified instructors.
German is Not so difficult
German and English are both members of the West Germanic language family. You'll have an advantage if you speak English, Dutch, or any Scandinavian language, or if you plan to learn them.
Thousands of common words and phrases, referred to as "cognates," exist in both languages. Hallo replaces Hello. Water is named Wasser, and father is named Vater, and friend is renamed Freund, and so on.
It is not a hard language; it just needs some time to learn perfectly with proper dedication. If you have a strong desire and are willing to put in the time and effort, you will be able to pass the German language proficiency test B2/C1 in 2-3 years.
All it takes is a little perseverance and the right mindset!
With so much to come, learning the German language is an investment that is certain to pay off. Do you really need a reason to study German? So, learn German in India and enjoy the benefits afterwards.