Introduction
The Sanskrit language is a classical language of South Asia belonging to the Indo-Aryan branch of the Indo-European languages. It arose in South Asia after its predecessor languages had diffused there from the northwest in the late Bronze Age. Sanskrit is the sacred language of Hinduism, the language of classical Hindu philosophy, and of historical texts of Buddhism and Jainism. It was a link language in ancient and medieval South Asia, and upon transmission of Hindu and Buddhist culture to Southeast Asia, East Asia, and Central Asia in the early medieval era, it became a language of religion and high culture, and of the political elites in some of these regions. As a result, Sanskrit had a lasting impact on the languages of South Asia, Southeast Asia, and East Asia, especially in their formal and learned vocabularies.
Sanskrit belongs to the Indo-European family of languages.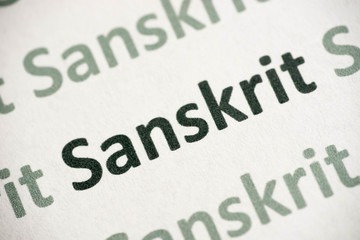 Learning Sanskrit:
Learn with Multibhashi
Multibhashi is one of the best online resources to learn a language. We start from basic to advanced. This is very helpful for beginners. Multibhashi uses an approach that will help you grasp the language quickly and be able to use it in your day-to-day situations in just a few days after you start taking the sessions. 
At the end of the course, we will provide you with a checklist and you can evaluate yourself on all the parameters and see where you stand. We will also provide you with a course completion certificate.
Establishing real, connected memories is half the battle in language learning, so why not start by making a new Sanskrit friend? Through  
Online Friends
The social media impact needs no introduction. Hence, you can leverage this platform as a learning platform. Make friends (who understand Sanskrit language) on social media and interact with them. This will be an easier way to learn how people use slang words in their language. Knowledge of slang words is also essential.
Get a Hindi Dictionary
When you begin to learn a language and start trying to say or understand things, you're always going to have more questions than answers. A dictionary helps you make progress in this area and allows more spontaneity in your learning. You can always look up words that catch your fancy, regardless of whether they relate to a structured teaching unit or not.
Youtube: 
Youtube plays an important role in learning any language. There are various videos available on this platform that you can utilize to improve your speaking and reading skills. You just need to watch these videos to see how the people are interacting with each other in this language. It will improve your skills in this language.
Use Mnemonics
Mnemonics are memory devices that help you remember something. A mnemonic could be a story, picture, or even a song! They don't work for everybody, but if mnemonics work for you, this can be a super powerful way to learn a language fast.
Flashcards 
Use flashcards, Making them gives you an opportunity to practice writing, and using them helps you memorize the alphabet.
Your Web Browser
With the Google Translate Chrome add-on, you can turn any Sanskrit website into an interactive Sanskrit dictionary. When you click on a word you don't know, the English translation pops up on the same page, so you can read websites for native speakers without constantly stopping to look up words.
Listen to Language Podcasts –
There are lots of Sanskrit podcasts available online. They range from beginner to advanced. For best results, make listening to podcasts a daily part of your routine (listen during your commute or while you do chores). It will help you learn the language much faster than anyone else.