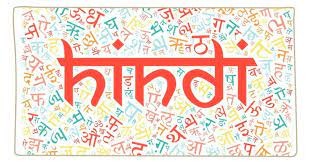 Introduction-
Hindi is the fourth most spoken first language in the world, after Mandarin, Spanish and English.  Hindi alongside Urdu as Hindustani is the third most spoken language in the world, after Mandarin and English.
Hindi, or more precisely Modern Standard Hindi is an Indo-Aryan language spoken chiefly in India. Hindi, written in the Devanagari script, is one of the two official languages of the Government of India, along with the English language. It is an official language in 9 States and 3 Union Territories and an additional official language in 3 other States. Hindi is also one of the 22 scheduled languages of the Republic of India.
Hindi has been described as a standardized and Sanskritised register of the Hindustani language, which itself is based primarily on the Khariboli dialect of Delhi and neighboring areas of Northern India.
Hindi is the lingua franca of the Hindi belt and to a lesser extent other parts of India.
Modern Hindi is written in Devanagari script, which is made of two Sanskrit words: Deva, meaning 'God', and Nagari, meaning 'of urban origin'.
The standard Hindi alphabet, as agreed by the Government of India, has 11 vowels and 35 consonants. The traditional Hindi alphabet is believed to have 13 vowels and 33 consonants. The letters 'अं [am]' and 'अः [ah]' are counted as vowels in traditional Hindi. The same is counted as consonants in standard Hindi. The standard official Hindi alphabet also includes two letters 'ड़' and 'ढ़' which are counted as consonants.
Is there a way to learn Hindi without attending classes?

Yes, absolutely! There are ways to learn Hindi without going to classes. Let us take a look at a few resources useful for learning Hindi on one's own:
(Another known language to Hindi) dictionary
For beginners who cannot even read Hindi, a dictionary with transliteration of syllables and words is very useful. Phonetics are given, which help one understand the sounds and pronunciations of syllables and letters in Hindi.
Hindi – to – Hindi dictionary
For learners above the basic levels, a Hindi to Hindi dictionary is very useful for developing and expanding Hindi vocabulary. Words and phrases can be learned and practiced and revised regularly with the help of a dictionary.  
Books for learning Hindi
A variety of books is available to learn Hindi from. These books belong to different categories suitable for different classes of individuals and for different levels of Hindi learning. Hindi learning books for beginners, intermediate level Hindi, advanced Hindi learning, Hindi for travelers, Hindi for formal communication, etc. are some of those categories. Hindi Books for beginners and intermediate levels are highly effective for developing core Hindi vocabulary.
Hindi storybooks for kids
This might sound funny, but storybooks are as interesting for kids as they are for learners who are at the basic level of any language. It is mainly because stories meant for children are generally accompanied by pictures to make it interesting for kids to read them. This has another advantage: beginners find it easy to identify what a particular word stands for, by quickly taking a look at the picture accompanying it.
Hindi novels / poetry
Those who are interested in reading poetry or novels can enjoy reading Hindi novels and/or poetry, thereby, enhancing the learning experience with excellent pieces of writing.
Hindi newspapers / magazines/ journals
Newspapers/magazines/ journals are some really foolproof resources for learning a language. The diction that is used in these mediums is always impressive and worth learning and for use in communication, especially in formal communication.
Hindi news channels
Voice modulation, tonality, pitch control can be learned effectively via this medium.
Shows in Hindi with subtitles
Hindi shows with subtitles, whether it is movies, web series, television programs, cookery shows, cartoons, anything that interests a viewer, if watched actively (that is, with utmost attention with a view to learning something) can help one immensely to develop Hindi language skills.
Blogs and articles
Blogs and articles written for imparting knowledge about the Hindi language are a good resource for learning Hindi.
Podcasts and videos
Hindi language experts upload podcasts or educational videos to impart knowledge about the language to viewers or the audience.
Online Hindi learning apps
Educational institutions have their own apps nowadays designed in such a way that they are user-friendly, and consume least of the internet data on a smartphone. They make learning interesting for users byways of daily quizzes, quick and short lessons, tests, etc.    
All the above resources can save one a lot of time which is required for commuting for going to the classes or for attending physical classroom training.   
Are we, but, missing a point here?

What about perfection in language skills?
If one wishes to master the Hindi language, and speak it fluently, one must take a systematic Hindi learning course.
In order to save time and a monetary sum that would be spent on traveling, online classes are an equally excellent solution. In an online Hindi learning class, one would communicate with a Hindi trainer over audio-visual learning sessions. Hindi grammar concepts, vocabulary, phrases, expressions, voice modulation as per the format of sentences, everything can be learned from an expert, and that too, from the comfort of one's home.
In an online Hindi learning course, the class comes to your home, your phone, or your laptop, rather than you having a need to go to the class!