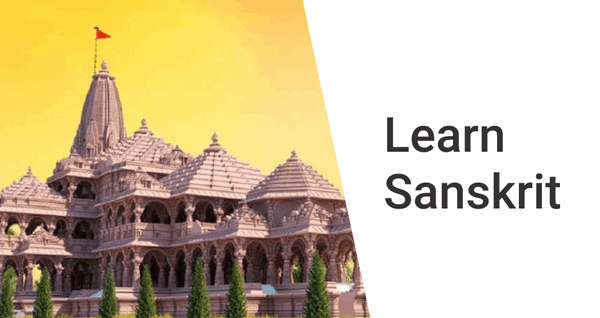 Introduction:
The Sanskrit language is a classical language of South Asia belonging to the Indo-Aryan branch of the Indo-European languages. It arose in South Asia after its predecessor languages had diffused there from the northwest in the late Bronze Age. Sanskrit is the sacred language of Hinduism, the language of classical Hindu philosophy, and of historical texts of Buddhism and Jainism. It was a link language in ancient and medieval South Asia, and upon transmission of Hindu and Buddhist culture to Southeast Asia, East Asia, and Central Asia in the early medieval era, it became a language of religion and high culture, and of the political elites in some of these regions. As a result, Sanskrit had a lasting impact on the languages of South Asia, Southeast Asia, and East Asia, especially in their formal and learned vocabularies.
The greatest dramatist in Sanskrit Kālidāsa wrote in classical Sanskrit, and the foundations of modern arithmetic were first described in classical Sanskrit. The two major Sanskrit epics, the Mahābhārata and the Rāmāyaṇa, however, were composed in a range of oral storytelling registers called Epic Sanskrit which was used in northern India between 400 BCE and 300 CE, and roughly contemporary with classical Sanskrit.
How easy to learn Sanskrit: (tips)

Dedication
The primary factor behind a successful person is his/her level of dedication, which signifies the commitment of a person towards achieving objectives and life goals. Thus, dedication implies total devotion. Ask any successful personality the reason behind their success and the first answer that will emanate is they were dedicated. Dedication is thus the ultimate key to success in life.
Now, let's talk about language:
Generally, Sanskrit is a tough language for a non-Hindi person, but it is not as difficult as you think.
Sanskrit is difficult for new learners no doubt, but you can surely learn it. What you have to do is to choose the background first like from where you want to learn. You can learn the Sanskrit language through online mode like YouTube, but you can't totally rely on, or I can say depend on YouTube to become perfect in this language still you need a trainer or some special guidance for that you can directly refer to our company Multibhashi where you will get professional trainers, and then it will be easier for he/she to learn the Sanskrit language. Here you can directly interact with the trainer.
Tips to learn Sanskrit Phonetics:

According to the Webster English dictionary, Phonetics is the study and systematic qualification of the sounds made in spoken utterances. The different configurations of the vocal tract produce different sounds. These sounds are then applied to a particular language and it forms the phonetics of that particular language. Learning phonetics is indeed easy if you know the IPA (International Phonetic  Alphabet). Today we are going to discuss what is the best way to learn Sanskrit Phonetics.
The Sanskrit alphabet consists of 50 different letters. These letters are organized based on their phonetic properties, such as articular surface, aspiration, and voicing. 50 letters of Sanskrit alphabet out of which the first 16 are vowels and the next 34 are consonants.
In Sanskrit, the vowels form an independent group from the consonants. There are sixteen vowels which consist of five short ones, eight long ones, and two support vowels. Among these sixteen, only thirteen are in normal use these days.
The vowels are called "swaras" in Sanskrit. The short ones are referred to as "hraswa" swaras.
Important things to know:
So the first and the important step to learn Sanskrit phonetics is to get a Sanskrit Phonetic alphabet chart. Study this chart thoroughly, unless and until you have mastered the Sanskrit phonetic alphabets you will never be able to learn phonetics. These phonetics are the sound elements of every word. It is also important to have a thorough knowledge of the Japanese vowels as well as the consonants of the Sanskrit language. Until you have learned the vowels, consonants, and phonetic alphabets you cannot jump directly to studying and analyzing Sanskrit phonetics. After learning the alphabet you can start to take up a small group of Sanskrit words and analyze their phonetics. All the words are not pronounced the way they are written. There may be a lot of silent letters in a word. Focus and keep in mind where the silent letters are placed generally. One of the best aids you can get is to download and install a Sanskrit dictionary with an audio feature. You will be able to pronounce the words correctly by listening as well as studying the phonetic alphabets. These will enhance your phonetic knowledge. 
Once you are able to analyze the phonetics for almost every word you can start practicing phonetics for a full sentence. There are many great websites that offer great audio as well as phonetic transcription. You will be directed to a dialogue box where you can write down your Sanskrit sentence that you want to analyze. Then it will automatically start the transcription and provide you both the written phonetic transcription as well as audio transcription. Sometimes you might forget how a phonetic alphabet is pronounced but with the help of the audio feature you will remember it easily after listening to it. Isn't that great? Then again, we have to remember the sound stress. Since stress plays a crucial role in the pronunciation of a language. Audio features will effectively help you in learning sound stress. 
Conclusion:
You can practice all these ways by yourself at home with the help of resources from the internet as well as from offline resources. But the very best way to learn Sanskrit phonetics and to master it is to take guidance from a language expert. Since they have mastered it already they will have the knowledge of the correct methods of learning and practicing it. So taking guidance is very essential and the best way but mastering it depends on your dedication and consistency. Without regular practice, you will never be able to learn it.