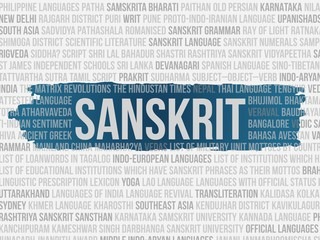 Introduction:
Most learners of the Sanskrit language have the desire to be proficient or even just learn how to read and write it. But Sanskrit isn't "that easy" to learn, especially if you don't have the ideal resources for learning. There are various books or courses which cost time and money, not to mention, you'll be required to do a lot of homework. This traditional method of learning, similar to modern universities, will feel like pressure pushing down on you while you are trying to learn.
We all know that "studying online" is one of the best ways to LEARN SOMETHING — not only a language or an accent, but also in different ways such as solving math problems, cooking, dancing, or even fixing your gadgets. Thanks to the innovation of technology, you can learn Sanskrit online, too!
Here are some of the best resources to learn Sanskrit online:

1. Learnsanskrit.org
The learning website, learnsanskrit.org, aims to help students read "real" Sanskrit as quickly as possible. The lessons on the website focus on the commonly used parts of Sanskrit grammar, such as word formation, the system of compounds, the appropriate ways to use participles, noun stems, etc. This website also uses clear and correct grammar to avoid confusion on the learner's side.
The "learnsanskrit.org " also aims to simplify the learning process without even simplifying the "language" itself. As we all know, some language-learning websites are a bit difficult for learners to comprehend the lessons — which leaves them to find another website instead. But learnsanskrit.org has beginner-friendly lessons that are easy to pick up for every learner. What's more amazing here is that all the lessons are offered for free!
2. Learn Sanskrit Online
The website was founded by Vidyadhar Bhat, who is a Sanskrit scholar and a teacher who taught Sanskrit for several years in schools and traditional gurukula. Today, Learn Sanskrit Online is managed by a growing team whose goal is to continue developing the website to teach learners using the most convenient ways. Currently, the website continues to release new lessons and improve the platform.
3. Chinmaya International Foundation: Easy Sanskrit Course
The Chinmaya International Foundation (CIF) is the research wing of the Chinmaya Mission. It is the center of excellence for studying and researching as well as dissemination of knowledge in the areas of Indian philosophy, culture, art, science, and business — both modern and traditional.
4. Open Pathshala
Keeping the motto of "your best source to learn Sanskrit," Open Pathshala is an e-learning platform for learning Sanskrit, Hindi, English, and other regional languages across India. The platform is popular in India for having high-quality and online video tutorials, one-on-one Skype classes, and live group sessions. Aside from having language classes and video tutorials, the website also offers courses for learning the Indian culture.
5. The Sanskrit Language – Guided Sanskrit Lessons
This website is intended to study along with the book "The Sanskrit Language" by author Walter Harding Maurer. The book is available worldwide and can even be bought on Amazon. This way of learning is great for self-studying at home with complete resources — this book and this website.
6. ApnaCourse.com: Sanskrit for Beginners
ApnaCourse.com is a leading e-learning platform that provides on-demand online courses taught by top instructors. The company was founded in 2013 and had been growing successfully over the following years. The platform teaches not only language but also career courses in various fields such as Banking and Finance, Project and Ops Management, IT and Security, Sales and Marketing, Law, and many more.
Among the languages taught on the platform is Sanskrit for Beginners. It offers a complete package of learning Sanskrit. It covers Alphabets, Pronunciation, Grammar, Sentence formation, Conversations, and all the basic lessons needed for beginners. This course is recommended for everyone — students or professionals.
7. Enjoy Learning Sanskrit
This website aims to help promote the learning of the Sanskrit language. It offers a few learning and teaching tools in learning the basics of the Sanskrit language — they are all free! The tools are easy for both children and adults, which makes learning a fun hobby to do.
The website continues to add more lessons and materials. Currently, the site has the tools for learning the alphabet, pronunciation, reading, writing, typing, and other basics in learning the language.
8. Acharya: Learn Sanskrit Through Self-Study
The Acharya Website is a useful tool for learning Sanskrit through self-study. The lessons are presented uniquely and conveniently to make it hassle-free for learning Sanskrit. Also, the pages on the website carry interesting information related to Sanskrit, which isn't widely known outside India.
The lessons are aimed to give the learner a good introduction to Sanskrit. We know that self-studying is sometimes frustrating and boring. That's why the lessons in Acharya are related to the daily activities in our lives, such as everyday conversations; all are free!
9. Sanskrit Dictionary
According to the name itself, Sanskrit Dictionary, this website will ONLY act as your "online dictionary" when learning Sanskrit. Although there are no courses offered on this website, it's still useful for you to learn new words and vocabularies which you haven't encountered from other websites or platforms.
10. Language Trainers: Sanskrit Classes
Quite expensive but surely transforms you into a real Sanskrit speaker, the Language Trainers provides a language training curriculum tailored to the needs of an individual. The world-class trainers will focus on your strengths and mostly weaknesses to enhance your language skills. The platform offers one-on-one Skype lessons and private face-to-face at your home or office (if trainers are available near you.)
Conclusion:
So, these were some of the best ways to learn Sanskrit online. Hope it helped!