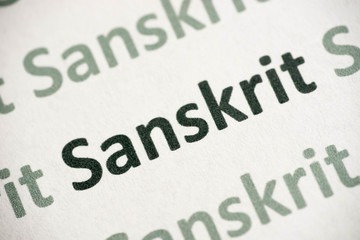 Sanskrit is a language that belongs to the Indo-Aryan group and is the root of many, but not all Indian languages. Make your basics strong and clear, to progressively build up the skills. The best resource for learning any language is speaking and listening to the language as much as possible. Start taking professional classes at Sanskrit University. Learn the rules of grammar, Ashtadhyayi, and go on to learn shlokas from Amara Kosha. Without that, no matter how much you dedicate yourself to the language, you will have to rely on translations of epics, Puranas, Vedas, etc. If you know the grammar, you can literally read Puranas like you read storybooks. The language today, for me, has become so much more interesting and fun than it was before. Grammar in Sanskrit cannot be neglected. If you are not well versed with it, you're a slave of the translations. If you know your stuff, you can understand how these foreigners have mistranslated our Epics and Vedas. 
Sanskrit Scholars-
Sanskrit scholars in India quite often speak Sanskrit among themselves; I have heard scholars from different parts of the country choose Sanskrit as the most efficient medium for them to communicate with one another (on the bus, in the street, and of course in academic settings). For a good Sanskrit scholar, Sanskrit is probably more useful and accessible in such meetings than English or Hindi.  Spoken Sanskrit is, of course, a  scholastic language, though there have been attempts in recent decades to generate new, modern words for various bits of modern life. There's a pretty good book, with conversations, published I think by the Kuppuswami Sastri Institute in Chennai: there one finds discussions in Sanskrit about how to fix a flat tire on your bicycle, about going to political demonstrations, and other such contemporary topics. Sanskrit is very regularly the language of instruction if one is reading a classical text with a Sanskrit pandit.
Spoken Sanskrit-
Spoken Sanskrit uses the classical morphology (the verbal system perhaps somewhat reduced in its range), but its syntax often follows whatever spoken mother tongue the speaker uses. In this, however, it is continuous with medieval written Sanskrit which, despite what one reads in various primers and other works, is actually a left-branching language (like all other South Asian languages in the Dravidian and Indo-Iranian families), unlike Vedic, which is right-branching (like Greek, Latin, English, German, etc.).  Also, medieval Sanskrit has the same profusion of modal and aspectual forms that we find in other South Asian languages, although these forms have largely gone unnoticed by scholars trained in the old Indo-European paradigms.
Whether this rich modality and aspectuality actually survive into spoken Sanskrit is a question worth examining empirically.
For a taste of this spoken scholastic Sanskrit, I recommend the set of lectures given by Prof. Arindam Chakrabarty  (Univ. of Hawaii) in Tirupati– an introduction to Western philosophy for Sanskrit pandits in Tirupati. Some of these are available on YouTube. Arindam has also published the lectures as a book, in Sanskrit of course; you can read their very beautiful introductions to Plato, Aristotle, Spinoza, and Kant. Arindam had to more or less invent an adequate vocabulary and style for these lectures; they were extremely popular in Tirupati, and well attended.
Despite all of the above, spoken Sanskrit is of course a very far cry from any of the mother tongues in terms of its expressive range. It's reminiscent of the way Latin was spoken until quite recently in Europe, among scholars.
Nagaraja Rao himself is the author of several novels in Sanskrit– they are wonderful to read. You can also hear the news in Sanskrit every morning on All-India Radio; it's called "Vaartaa," and tends to focus on the results of cricket matches.
For a fine essay on a modern play in Sanskrit, by Viswanatha Satyanarayana, the greatest of all the modern Telugu writers, there is Velcheru Narayana Rao's chapter in the volume called "Innovations and Turning Points: Toward a History of Kavya Literature" (edited by Yigal Bronner, Gary Tubb, and myself)– OUP Delhi, 2014.