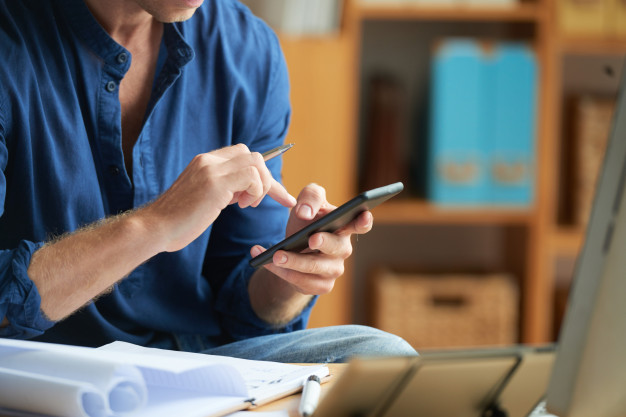 Are language-learning apps really effective?
Well, if you ask me, I would say "Yes"! 
What are language learning apps, basically? They are such online apps on which you get to test your knowledge of a language by taking their free tests (self-assessment) available online. From these tests, you can get a fair idea about where you stand in terms of your knowledge of a language, its grammar, how developed is your vocabulary, etc.  
Let us take the example of Spoken English. If you install an app, you get its daily set of questions based on various topics, or information and explanation on a particular grammar topic. You can find out for yourself how much you know and how much more you need to/ wish to learn.  Another advantage of learning via apps is that you can learn from anywhere and at any time of your convenience. You need not rush as per someone's fixed schedule, nor do you have any time limit in which you are expected to essentially learn or understand or grasp a point or an entire subject. 
On apps there are different courses / topics or learning programmes available for learners of different levels. For example, there are plain Spoken English learning programmes for beginners, for intermediate and advanced level learners, there is Business English available to learn for working personnel or entrepreneurs who need to regularly conduct meetings in offices, make presentations, conduct or appear for interviews, visit co-branches of their companies in neighboring cities or states for meetings or visiting any business units abroad as representatives or diplomats, etc. Thus, we can say that these apps are all-inclusive!    
I have myself benefited a lot from one such app. I installed the app. I would, every day, solve their short free tests available online. I began to realize what mistakes I was making repeatedly, and where I required improving. I got a fair idea of areas that needed improvement. 
I then enrolled in online training sessions. Right from the first day of my training, I started gaining confidence, upon understanding that it was not all that difficult to learn nuances of English Grammar and Spoken English, in general. If one devotes even half an hour of a day to language learning, sincerely, with all one's heart, it's possible to learn how to speak in English fluently, without silly errors and without hesitation. There was a time when I would hesitate to express my views publicly for the fear of speaking English incorrectly, but today I can confidently fan my opinions in public because I am quite sure I speak English fluently. 
There is also one more feature available on online language-learning apps which is truly helpful. One can learn English through the medium of other languages. For Example, a student whose mother tongue is Marathi can learn English via Marathi. Do you want to know how? Let me explain! Now, suppose I am a beginner in English Language learning; I cannot even understand the meanings of words or instructions given on a page in English. Then, how am I supposed to understand what I am expected to do further, or what I am expected to understand or learn? Then here, I can choose a language of my choice, say, my mother tongue or any other language which I find easy to understand, and I will get to read the entire page, along with instructions, in that (chosen) language.  
Apart from English Grammar, other topics available on online language learning apps are those that help you develop your English vocabulary to enrich your language skills. Numerous phrases, idioms, along with the knowledge of how to use them in sentences to add more beauty to your speech or writing is something that you will love! Moreover one gets to learn how to express a thing keeping in mind the situation around one. For example, one may wish "Heartiest Congratulations" to someone on a happy occasion. If one, however, wishes anyone, "Heartiest condolences" on a sad occasion, it sounds really odd. One must express or convey one's' Heartfelt Condolences' on a sad occasion. Minor errors can sometimes result in major embarrassment even if committed innocently or unknowingly. By learning a language via a proper source we can avoid such disasters easily, then why not?
One more reason why these apps are gaining increasing popularity day by day is that professionals or simply say working individuals do not find time to attend any training programmes which have fixed timings or hard schedules. They struggle to find time even to take care of their health, leave alone for a hobby, or for learning any new skill. Thus, we understand that online learning apps is the future of language learning. 
The app which I learned English through is Multibhashi's Spoken English Learning App. It's available for free on Google Play Store. One can easily download /install the app on an android phone and start learning and self-assessment via their free online tests and free online learning programmes. I definitely have improved a lot over the period of the past few months. I, now, do not hesitate to speak in English to a customer support executive of any company, or a store manager in a mall, or an officer at a counter in any company or bank or government office, or to clients or agents or customers of the company that I work for. It's a pleasure to feel this confidence, really!