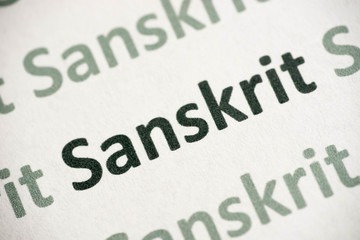 Introduction:
One month is a very small window to learn a new language. Let's see how and how much we can progress!
In the first month, week by week introduce yourself slowly to new topics:
Learn Sanskrit at home through these methods:
1. Introduce your brain to words in the Sanskrit
 We can learn a language by listening to Sanskrit podcasts such as ivmpodcasts, playerfm, podbean, podchaser, samskritabharatipodcast, Listennotes, oursanskrit, Devyani radio, and more Sanskrit podcasts available on available on iTunes (Apple Podcasts),Google Podcasts, Spotify, Breaker, TuneIn, Stitcher, Radio Public, Hubhopper , or YouTube, listening to Sanskrit radio such as TuneIn, watching Sanskrit movies with English subtitles and English movies with Sanskrit subtitles, to get a fair idea of the language. You could use cinestaan, movies like punyakoti, priyamasanam(National Award winning Sanskrit movie) – also available in a book format, anurakthi( world's first 3d Sanskrit movie), ishti, suryakantha, aham brahmaasmi, AdiShankaracharya, Bhagwad Gita, Madhurasmitham, Namo, Mdhubhashitham, etc.
2. Learn collective words and pronunciations
By the second week, you should practice speaking the phrases that you have collected in your vocabulary book verifying the pronunciations with Omniglot.com and Forvo.com to get better. And as you practice you see how different the Sanskrit pronunciation is from English. It has a new introduction of: and unheard of in any other European languages! But don't fret or get anxious over it. Speak aloud, record yourself and play the recordings until you get the pronunciation correct. Keep adding new phrases to your vocabulary book the moment you are able to perfect the old ones. Prepare for small conversations such as "Namaskaarah, Mam Naam Arti" Etc
Now that you're able to hold small conversations(irrespective of the grammar correctness), I recommend you could log in to online language exchange or conversation exchange programs such as mylanguageexchange.com, speaky, and many more that are available online. In this manner, you will be able to improve your Sanskrit by listening to the native Sanskrit speaker and getting corrected at the moment you make a mistake via feedback. You can also take advantage of the free Sanskrit lessons offered by a few teachers online.
3. Try to communicate in Sanskrit
Week three is a good time to evaluate what's worked for you in learning Sanskrit, and what hasn't worked so well. That is if you've kept up your practice. Chances are you've had some days when you felt super motivated, and some days when you were tired, bored, or had other engagements. This week is a great time to put things in their places and create a study schedule that works best for you.
Remember it is really very effective to study every day of the week, even as little as 10 mins, rather than doing all your study in one or two days. Because of a few simple reasons, it helps you firm up your study routine and you don't have to spend extra time trying to figure out where you left it last!
Throughout this week, keep reading, keep scheduling conversations, and keep building and practicing from your flashcard decks. Introduce yourself to Memrise, Drops, Duolingo to take further advantage of learning.  No matter what else might get in the way of your studying, you can always find a few spare moments to check in your Anki deck.
4. Make a schedule for learning
The fourth week is all about maintaining the schedule you set for yourself, and see how it works. Tweak your schedule, if it has been a little too heavy considering the time that you have at hand so that it works for you. In the last week of the first month, I recommend you keep practicing and adding to your flashcard decks, resume listening to a Sanskrit podcast or radio show, Sanskrit playlists, and conversations with native speakers this week. You will also find your listening to have improved significantly and you would be able to identify spoken words better. So why not try some of the great YouTube videos to train yourself such as!
You may also be able to do a Google search for the title "Sanskrit Bhasha Shikshanam" and see some of the videos as a sample. 
5. Track your progress
Review yourself, your progress, your learning to see how far you've come in just a few weeks, even if you weren't able to study as much as you wanted. You'll be amazed by your progress and find it hard to believe that at one time, you could barely pronounce Namaskaarah! As long as you studied consistently and didn't give up, you won't be looking back!
If you're from the Aryan part of India; viz. UP, West Bengal, Northern Maharashtra, Punjab, etc. then you'll have a noticeable advantage over the ones in the Dravidian part. Say, if your mother tongue is Hindi, Bengali, Marathi, Punjabi, Bihari, etc. It'll be easier to grasp than having a Dravidian mother tongue like Tamil or Telugu.
6. Evaluate your learning
2–3 weeks and you'll be decent in it, can read stuff like simple prose
6–12 months, adept and comfortable in reading the majority of the texts, a little fumble with poems
1.5–3 years, more or less like a great 2nd mother tongue and perfect speech and readability, can comprehend poems with relative ease
5–10 years, expert-level understanding and ease with the language, both vocally, orally, and in terms of reading
15+ years, not scholarly level, but close enough to it
If you're from the Aryan part, it'll take you half the above-mentioned time, if you're from the Dravidian part it'll take you the above-mentioned time. also. Sanskrit is a scientific inflectional language.if learned passionately, one can learn it in 2 or 3 months
Conclusion:
Learning a new language is challenging, frustrating, and sometimes just downright difficult. Making small goals to attain every day will keep you moving onward and upward on the language learning track!