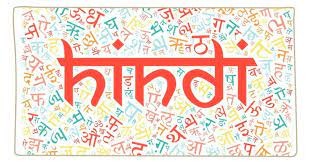 Introduction-
It is rather ironic to believe that the metropolitan Indian thinks English is the ticket to privilege and prosperity but the average politicians with equally average to zero educational qualifications- have realized that Hindi happens to be their billion-dollar ticket to rule this 'Sone ki chidiya' (read India). Thus, I feel in order to take active participation in the growth of this nation, it's high time that the educated and majority youth start taking pride in not only yoga and spirituality but our very own Hindi. India, as a country, has always believed in 'Unity in Diversity', and this diversity is particularly seen in the usage of Hindi where the dialect changes depending on the region. Today very few people speak 'shudh' or pure Hindi with the right pronunciation as you may find in Hindi poetry or literature, to say the least. Mumbaiya Hindi is different from the Hindi spoken in the Northern belt of India and then if you go to South India people speak very little or rather funny Hindi. Let me present you with a few online mediums through which you may start mastering this graceful language right from the comfort of your home.
Online courses to start learning Hindi:
1. Duolingo- This is the most popular app for language learning. You may start learning the basics of Hindi through a gamified method. Once the level increases you may have to pay a certain subscription charge. It offers plenty of practicing material and the audio quality is great.
2. Udemy- It is a language learning platform, from where you may get material regarding Hindi writing tips to conversational phrases. Sometimes they charge you for each course which may put a dent in your pocket, however, they have a money-back policy in case you have a complaint regarding the teaching process.
3. Italki- Here you may locate Hindi tutors for one-to-one classes. You can also get native speakers as your partners for practicing the relevant language. You can do research in-depth regarding your trainer related to their age, nationality, gender, and so on.
4. HindiIpod101- Here you can get audio and video material for learning Hindi from basic to intermediate. Podcasts actually help in listening and deciphering dialogues. It is ideal for beginners.
5. Multibhashi- It is an ed-tech platform, from where you may get professional Hindi trainers for individual or group sessions. Multibhashi maintains transparency by sharing daily recording s of the sessions. You may also book for a demo session of your chosen trainer. The trainer may help you achieve your desired level in Hindi and the curriculum stays with you for a lifetime.
6. Memrise – Memrise can also teach you in a play-way method and through digital flashcard. The free version is worth your time as it ticks all boxes of learning Hindi Vocabulary and thus keeps the learners engaged. It has a variety of courses.
7. Pimsleur- In this app, the focus is on speaking and the app is so designed so that the trainee can participate actively. The app is responsive and has a lot of cultural info.
8. Youtube videos- If you don't want to follow the formal path of online classes on the apps mentioned below, then Youtube is your best bet. Here you may get from basic to advanced – all kinds of videos of Hindi. The only catch is, here you need to do the research work and find out the authentic video that you would like to follow.
Conclusion-
 As a teacher, these are the online sites through which you may approach Hindi, whether they are best or not- that will depend on the amount of your involvement and regularity. Consistency is the key to success. We all know that something which is done repeatedly turns into a habit and it's nothing different for learning Hindi.