Introduction:
It is great that you have decided to learn Kannada. Kannada is a beautiful language and has a rich history and heritage. There are various levels of learning Kannada. In the first level, you will learn all the letters of Kannada step by step. Lessons on how to write, how to pronounce, how to frame words, and how to combine the words with precision are included in this. In the second level, you will learn the listening and speaking skills in Kannada and also the grammar part. In the third and fourth levels, you will have an overall idea about Karnataka, its culture, history, literature, art and life, and many more. In the fifth level, you can start writing in Kannada. These levels may slightly vary from platform to platform. You can learn Kannada with free online lessons from various platforms. In this blog, I will mention some websites where you can take free online lessons in Kannada. You will surely appreciate the magnificence and glamour of the Kannada language once you grasp the basics.
Websites offering free online/offline lessons for the Kannada language:
You can download the Multibhashi app and learn Kannada from the app for free. You can learn various lessons like basic introduction, about family members, talking about objects, etc from the app. It is very easy to learn vocabulary for free from this app.
You can learn Kannada for beginners from these apps both online and offline for free, in an effective way. The apps are available on iPhone as well as Android. Using this course you can successfully learn Kannada on your own. The apps include 30 free lessons from the book2 Kannada curriculum. All tests and games are included in the app. The MP3 audio files by book2 are a part of our Kannada language course. You can download all audios for free as MP3 files. The lessons are clearly structured and will help you achieve your goals. You will be able to communicate in multiple situations. You can learn when traveling and at home. You are on the go and can learn Kannada anywhere.
You can learn Kannada lessons for free from Learn101 step by step. All the lessons contain audio and are all offered for free. Here you will learn the alphabet, some simple grammar rules, practice common phrases, and will memorize many important vocabulary lists and many more things. 
You can download various preliminary lessons from this site and learn the basics of the Kannada language for free. 
You can download study materials on various topics related to Kannada learning for free from this website and learn the Kannada language. This site is really helpful for Kannada learning and you can learn the basics of Kannada from the lessons. 
My languages cover many topics for free and you can learn a lot from this website for free. Topics like Kannada alphabets, detailed grammar, phrases, quiz, questions and various other things are available for free. There is a feature named Kannada Scriptwriting on this website where if you write your name in English and press enter then, it will be translated into Kannada script. 
This site teaches Kannada for free. t introduces basic grammar along with 30 modules recorded at the various places of Karnataka in its natural context. It helps you to learn four basic skills of language learning- listening, speaking, reading and writing through audiovisual materials.
Apart from all these, there are various other websites and apps from where you can get free lessons for learning Kannada. They are:
Wikipedia – Basic Grammar
Omniglot – Kannada Alphabet 
ILanguages – This site is designed to teach you and help you learn Kannada for free through vocabulary, phrases, grammar and flashcards (vocabulary trainer).
WikiBooks – Thematic Vocabulary and Common Phrases
LanguageReef.com – Thematic Vocabulary
Kannada.free.fr – Thematic Vocabulary (on the left)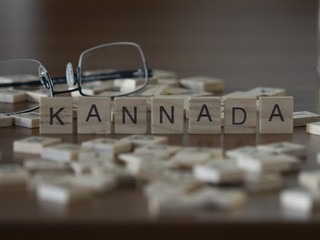 Conclusion
All the above-mentioned sites and apps will help you to learn Kannada to some extent for free. But if you want to learn the language till proficient level then I would suggest you take up a paid course for mastering the language to the highest level. If you want to just learn the language for the sake of learning or till basic level then the above-mentioned sites will surely be of great help to you.