Introduction
Kids and teens can usually pick up a skill faster than adults. They are like sponges absorbing everything they see and hear around them. This makes it easy for them to learn new languages as well. Have you observed how you child can pick up a language faster than you when you move to a new city or country? There are many choices when it comes to teaching your kid or teen Kannada. You can choose to learn from a personal tutor, choose Kannada as a subject of learning at school or even find a teacher online who allows your child to learn from the comfort of their home.
There are many language learning platforms that allow your kids to learn Kannada online. It is important to find a class that offers you curated lessons especially designed for kids and helps them learn the language in such a manner that they are able to relate it to day-to-day conversations.  Kids enjoy and learn the most when learning happens in a fun manner. Find an online class which uses age appropriate games, quizzes and other such methods that hold the attention of your child and helps in quick learning and longer retention which is essential for learning Kannada.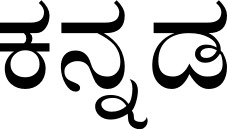 Kannada courses for kids and teens
For kids who are very young you can use online sources to help them listen to the language because listening is the key to learning spoken Kannada. As they listen repeatedly, they remember and recollect the vocabulary and can use simple phrases and sentences on their own.
Most teenage kids in India have an exposure to their native language at home and learn a second language at school. Thus, learning Kannada would not be very difficult for them. They can easily learn Kannada from a teacher online either in a one-to-one session or a group session.
When you choose an online Kannada course for your kid or teen, it is important to ensure that they are able to practice the language in different ways. You can talk to them in Kannada or allow them to talk to someone who is fluent in Kannada. Listening to stories, reading kids' books, watching age appropriate content in Kannada are all different support options that can supplement their Kannada online learning.
Most online platforms allow you to take a free first demo session which gives an insight into the teaching methodology. This can also be helpful in interacting with the teacher and becoming comfortable with them. Teaching a language to adults and to kids are two different things. Thus, a teacher who is experienced in handling kids should be your choice.
Even if it is an online Kannada class, ensure that your child gets sufficient practice through various exercises and activities and the teacher is able to give constructive feedback that allows the child to improve wherever necessary.
Whether a child or a teen, you can choose Multibhashi classes to help them learn Kannada as the teachers are very friendly, accommodative and use age appropriate lessons best suited for them.