How different is Western Yoga from its real origins
Yoga as we know it has been around for more than 5,000 years. It was first discovered within ancient ceramic seals that depicted humans in yogic postures, seated with their palms together. But with time, yoga has become a way of life for many people living all over the world.
Yoga works on the level of one's body, mind, emotion, and energy.
As time has passed on the western people adopted yoga and modified it as hence there is a difference between real eastern yoga and the one which we often see nowadays.
This article aims to explain what the western version of yoga is and its benefits and its brief history.
Introduction
Yoga as we know it has been around for more than 5,000 years. It was first discovered within ancient ceramic seals that depicted humans in yogic postures, seated with their palms together. But with time, yoga has become a way of life for many people living all over the world.
Yoga works on the level of one's body, mind, emotion, and energy. This has given rise to four broad classifications of Yoga: karma yoga, where we utilize the body; bhakti yoga, where we utilize the emotions; gyana yoga, where we utilize the mind and intellect; and kriya yoga, where we utilize the energy.
Each system of Yoga we practice would fall within the gamut of one or more of these categories. Every individual is a unique combination of these four factors. "All the ancient commentaries on Yoga have stressed that it is essential to work under the direction of a Guru." The reason being that only a Guru can mix the appropriate combination of the four fundamental paths, as is necessary for each seeker.Yoga Education: Traditionally, Yoga Education was imparted by knowledgeable, experienced, and wise persons in the families (comparable with the education imparted in convents in the west) and then by the Seers (Rishis/Munis/Acharyas) in Ashramas (compared with monasteries). Yoga Education, on the other hand, aims at taking care of the individual, the 'Being'. It is presumed that a good, balanced, integrated, truthful, clean, transparent person will be more useful to oneself, family, society, nation, nature, and humanity at large. Yoga education is 'Being oriented'. Details of working with the 'being oriented' aspect have been outlined in various living traditions and texts and the method contributing to this important field is known as 'Yoga'.
Present days, Yoga Education is being imparted by many eminent Yoga Institutions, Yoga Colleges, Yoga Universities, Yoga Departments in the Universities, Naturopathy colleges, and Private trusts & societies. Many Yoga Clinics, Yoga Therapy, and Training Centers, Preventive Health Care Units of Yoga, Yoga Research Centers, etc. have been established in Hospitals, Dispensaries, Medical Institutions, and Theoretical setups. Different social customs and rituals in India, the land of Yoga, reflect a love for ecological balance, tolerance towards other systems of thought, and a compassionate outlook towards all creations. Yoga Sadhana of all hues and colors is considered a panacea for a meaningful life and living. Its orientation to comprehensive health, both individual and social, makes it a worthy practice for people of all religions, races, and nationalities.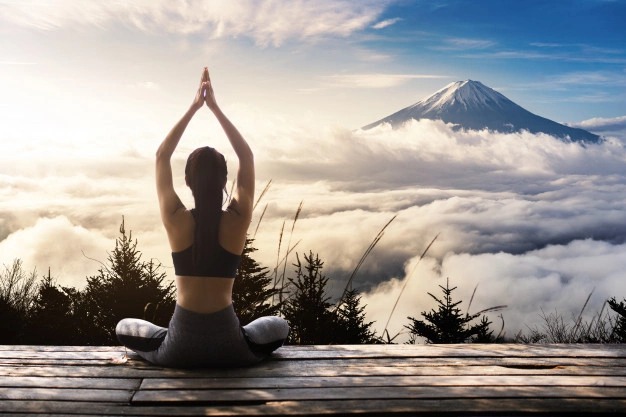 Western version of Yoga
The western version of yoga has said to have an array of health benefits gained by practicing asanas alone.  Beyond increasing muscle tone and flexibility, regular practice of asana has been associated with lower blood pressure, relief of back pain and arthritis, and boosting of the immune system. Increasingly, many believe asana practice to reduce Attention Deficit Disorder (AD/HD) in children. the Foundation argues that the full potential of the physiological, intellectual, and spiritual benefits of asana would be increased manifold if practiced as a component of the holistic practice of yoga. "Most Westernized yoga classes focus on learning physical poses, which are called asanas. They also usually include some form of breathing technique and possibly a meditation technique as well. Some yoga classes are designed purely for relaxation. But there are styles of yoga that teach you how to move your body in new ways. Choosing one of these styles offers the greatest health benefits by enabling you to develop your flexibility, strength, and balance.
As we approach the 16th century, Yoga is becoming more and more talked about in the West.
Modern Yoga as it is known in the West took off in the late 1890s when Indian monks began spreading their knowledge to the Western world for the first time. Moreover, people who traveled to India were able to rub shoulders with the yogis and observe their practices first hand.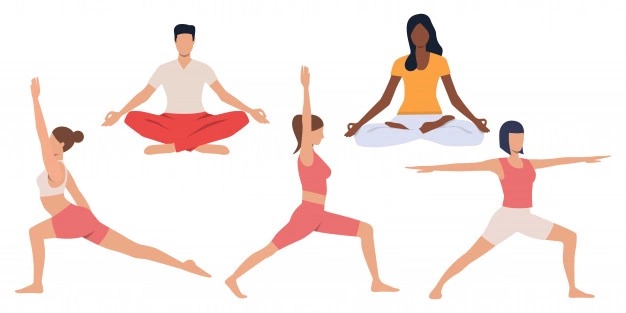 The Precursors of Yoga in the West
The introduction of Yoga to the West is often credited to Swami Vivekananda, the first-ever Indian monk to have visited the Western world. Vivekananda (born in 1863 and died in 1902) organized numerous world conferences on the subject by describing yoga as a science of the mind. He translated Yogic texts from Sanskrit into English and in 1893, during a visit to the US, sparked the nation's interest by demonstrating Yoga poses at a World Fair in Chicago. As a result, many other Indian Yogis and Swamis were welcomed with open arms in the West.
In 1920 Paramahansa Yogananda came to address a conference of religious liberals in Boston. He had been sent by his guru, the ageless Babaji, to "spread the message of kriya yoga to the West." In 1924 the United States immigration service imposed a quota on Indian immigration, forcing people like Theos Bernard to travel to the East to seek teachings. He returned from India in 1947 and published Hatha Yoga: The Report of a Personal Experience, an important text for yoga in the 1950s which is still read today.
As early as 1950, many associations and federations dedicated to yoga were born in all countries of the world.
Richard Hittleman, after studying in India, returned to New York in 1950 to teach yoga. Not only did he sell millions of copies of his books and pioneered yoga on television in 1961, but was the first to introduce a nonreligious form of yoga for the American mainstream, with an emphasis on its physical benefits.
BKS Iyengar is widely regarded as one of the most fundamental figures in the spread of Eastern spiritual philosophy across the world. He introduced Yoga to the western countries by amazing television audiences with his incredible physical suppleness in America and the UK. In 1963, he appeared on the BBC with David Attenborough and violinist Yehudi Menuhin. Time magazine even named him one of the 100 most influential people in the world in 2004.
In India, Sri Krishnamacharya (born in 1888 and died in 1989) enabled Hatha Yoga to take the form we know today (it was formerly rougher). Krishnamacharya went on to create his own yoga school in his native country (where he stayed until his death). After his passing, it was his son, T.K.V. Desikachar, who contributed to the development of this form of yoga throughout the world.
Western intellectuals "discovered" yoga in the nineteenth century. Initially, European and American interest in this practice evolved around its philosophical foundations. That early fascination with Hindu theological writings was the first step toward the popularization of yoga in the West. Although already back then, there were works available in English that discussed yoga in the context of physical practice (such as A Treatise on the Yoga Philosophy, by N. C. Paul, published in London in 1851), and sporadic examples of asana practice began cropping up in the West in the first half of the twentieth century, the physical practice of yoga did not fully grasp public or academic attention until the 1950s. In his groundbreaking book Le Yoga:
Immortalité et Liberté (1954), a Romanian scholar and student of religion Mircea Eliade recorded a holistic understanding of yoga asana. With its popular English (1958) and German (1960) translations, soon this volume became one of the most cited comprehensive sources on yoga in the West. Although he treated asana primarily as preparation for pranayama and meditation, Eliade drew heavily on the Hatha Yoga Pradipika, a fifteenth-century manual of yoga practices that highlights the link between the bodily energy, or prana, and the mental state of an individual. According to Eliade, the ultimate objective of yoga practice is the harmony of the body and the mind. This balance then leads to the liberation of the soul.
Although interpretations of this basic concept of balance often differ from school to school and practitioner to practitioner, yogis seem to have more in common than just a fundamental yearning for a balanced life. Their goal to attain harmony of the body and mind is expressive of something central to their practice and commitment to yoga—namely, their search for liberation. However, again the answer to the question "liberation from what?" produces a range of answers. A historical examination of the moment yoga swept through the West offers one possible answer as to why this ancient practice is so attractive to Westerners today.