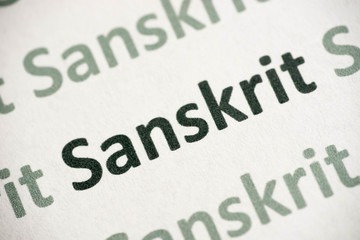 Introduction:
Sanskrit is indeed a complex language. That does not make it difficult to learn. You may find both my statements contradictory but it is the truth. If something is complex doesn't always mean that it will be too difficult to learn it. It only means more dedication, more effort, and more hard work. You will have to focus a lot. There are many things required to tackle a language like Sanskrit
       

Revision.

       

Consistency.

       

Schedule

       

Efforts.
All these things are required to learn Sanskrit.
Now let us first have a look at the language:
Sanskrit is an old language. It has been spoken for ages. It is related to Indian culture. There are many known facts linked to the Sanskrit language. Sanskrit is usually not spoken by many people. It is of great importance though. The learned scholars of ancient times all spoke of great Sanskrit. It was like their most important language. Many of their writings were written in Sanskrit. It is a classical language. It is considered the root of all languages. Even though it is not spoken much it still remains the language that holds great respect and importance.
According to a survey, 14,000 people consider Sanskrit as their primary language. It is offered as an optional language in many schools in India. This language is closely related to Hindu mythology. It is not just about the religion but about the country. When we talk about India, Sanskrit is spoken along with it. So Sanskrit is not basically a Hindu language but a language of the country India.
Indians and Sanskrit: What to expect
Many say that Indians find it easy to learn Sanskrit as compared to other people. Did this question arise in your mind that Sanskrit is even spoken in other countries? The answer is yes. Sanskrit has widely spoken in many countries of the world apart from India. Many foreign universities have Sanskrit as one of the languages offered by them. This gives you enough clarity that the language is so important. Otherwise, why would even those universities offer it?
Now talking about the ease of language for Indians. Sanskrit is not a difficult language for those who already know Hindi well. The right practice and training would be enough for someone with the knowledge of Hindi to learn Sanskrit.
Yes, there are many factors that you need to consider while learning the language.
Watch Sanskrit videos: yes this would be the best way to get yourself acquainted with the language. Listen to as many videos as you can. This will help you learn the basics as well as conversational language.

Do not focus much on grammar initially: correcting the grammar of a language is what makes the language tricky. So when you start do not just keep on correcting your grammar because you will be stuck. Get to know the language well first and then when you are well acquainted then you can start putting your efforts into learning Sanskrit grammar.
Conclusion
Sanskrit is a beautiful language. Do not back off thinking that it will be too complex. There is nothing in this world that is too difficult.  You can know how to easily get yourself to speak Sanskrit from Multibhashi– the one-stop solution for all your language problems. You can check out the training that they offer for Sanskrit. You can also download the Multibhashi app for free from the play store.