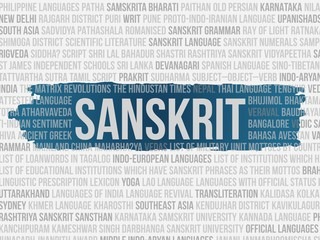 Introduction:
Sanskrit, an ancient language, is also one of the official languages of India. From generation to generation, it was originally transferred orally. It is the language of Vedas, Upanishads, Ramayana, Mahabharat, and many other literary classics which are a treasure of knowledge. Apart from many shlokas, Sanskrit is also seen in Buddhist and Jain texts and hymns. Sanskrit is a part of the curriculum in many schools in India. This can give rise to a question that is learning Sanskrit useful in India.
How Sanskrit can be beneficial for an Indian:
As a school student, if you are learning Sanskrit only with the intention of scoring marks, even that can help you. The reason being that it is a comparatively easy language to learn. In fact, the language has not changed from its initial state till date unlike many other languages. The rules of grammar and vocabulary can be picked up quickly. Once you understand the shabd and dhatu roop, you can further learn how to improve your vocabulary and grammar. You don't even have to worry about the spelling mistakes or upper or lowercase as with many modern languages. Also, there is no hard and fast rule to be followed when forming a sentence. Rather than writing words in a particular order, they can be changed and the essence or the meaning of the sentence can still remain intact. Thus, for beginners it can be a blessing.
There are many texts and scriptures in Sanskrit which are difficult to translate into English. Thus, learning Sanskrit allows you to learn the texts and scriptures in their original language and help you understand the exact meaning of it without depending on the translation which can sometimes be influenced by the translator's understanding as well. Through these texts and scriptures, you can understand the ancient culture and traditions of India.
It is also believed that learning the right pronunciation of Sanskrit can in itself be a good form of pranayama which is excellent for breathing. Since it was passed orally, it provides a good exercise for your brain as there is a lot of importance given to memorizing things.
India is a land of many languages. If you are someone looking to learn an Indian language other than your native language, Sanskrit can be helpful in that as well because most Indian languages, especially spoken in the northern regions share a lot of similarities with Sanskrit. Sanskrit even influences the south Indian Dravidian languages. Thus, learning Sanskrit can be your door to becoming multilingual.  
Sanskrit is not just taught in schools and colleges in India, but many prestigious universities offer courses in Sanskrit. If teaching is your passion, your knowledge of Sanskrit can help you find lucrative opportunities while staying in touch with your roots.  
In the end, I would like to say-
Contrary to the belief of many, Sanskrit is not just pertaining to religion and this can be understood only if you learn the language. Thus, learning the language helps you think in a broader perspective as well.
To understand the beauty of this language, just find an experienced, well-qualified teacher who can help you learn the language in the right way.