Effective Meditation: Steps and Guide
Meditation is the process of achieving mental peace, emotionally calm, and stable state through practicing mindfulness, focusing the mind on a particular object or thought, etc. From ancient times, meditation has been practiced in various religions. It was practiced in spiritual contexts, to attain spirituality and inner peace, ways to connect to God and the divine power. The earliest record of meditation is found in the ancient Indian text called "the Vedas". 19th century onwards, Asian meditation techniques started spreading to other cultures and now it has a varied purpose. Various benefits of meditation include a significant reduction in stress, anxiety, depression, pain, enhancement of peace, positive outlook and perception, etc. It also helps boost concentration, patience, tolerance, increase memory and confidence. However, there is research being conducted to understand the effects of meditation on psychological, neurological, and cardiovascular health better. 
However, in order to achieve all the benefits, it offers it is necessary to do it right. You might as well feel the need for an external guide to help you through it, you can definitely take someone's assistance or help. There are also video and audio files, where someone is instructing you, you can also use them. Some people also prefer the use of music in meditation. There are various sounds in music that are meant for specific purposes or types of meditation. These are usually soft subtle and calming sounds but with a higher vibration than the normal music to shift you onto the higher level. It also helps in focusing.  
The process of meditation is done in steps, so here are five simple steps for an effective meditation
Steps
Find a perfect spot for meditation
Meditation is done in quiet places, where there is no disturbance, in order to be able to focus and calm your body and mind. This spot should be comfortable and free from disturbance. You should feel safe and at peace. After picking the spot, make sure the place is clean and tidy, remove any clutter or dirt that might be lying around. You can also place flowers, incense sticks, or fragrant candles for a soothing and pleasant smell around you.
Sit in a comfortable position
 It is very important to sit in a comfortable position or else your mind will keep shifting and diverting you to the discomfort you are feeling. You can check out various positions that are suitable for meditation and try whichever ones you like and see what you are comfortable in. Also, you can use rugs, mats or cushions, or even chairs or stools to sit. It is not necessary that you sit on the ground. You can sit wherever you are comfortable. However, it is recommended that you should not meditate in the lying down or sleeping position.
 Sit and take deep slow breaths, calm yourself down. Clear your mind of any materialistic issues or thoughts.
Calmly sit and focus on the inner dialogue. A lot of people prefer to focus on their breathing here. They take deep slow breaths and concentrate on the process of respiration. Some people also concentrate on their pulse and heartbeat. You can also choose any spot or process of your body and calmly sit and think about it. You do not have to force yourself not to think or block other thoughts. Just focus on a particular process or object. It is a process where you sit and observe and do not let your mind engage in thoughts. Over time, you will see how easily you can control your mind and block any unwanted thoughts. You will also see an increase in the level of concentration. And how your mind and body both are at peace,  stress, and anxiety-free
The last step is to end your meditation by slowly entering into the real world. Start recollecting your physical surroundings, then your body. Take time for this process, it should be a slow transition. Then slowly rub your palms against each other and place them on your eyes. Feel the warmth of your hands and slowly open your eyes to reality.  After the meditation is done, sit and relax and ponder over the thoughts you had for a few minutes and then you can go and continue with your daily routine.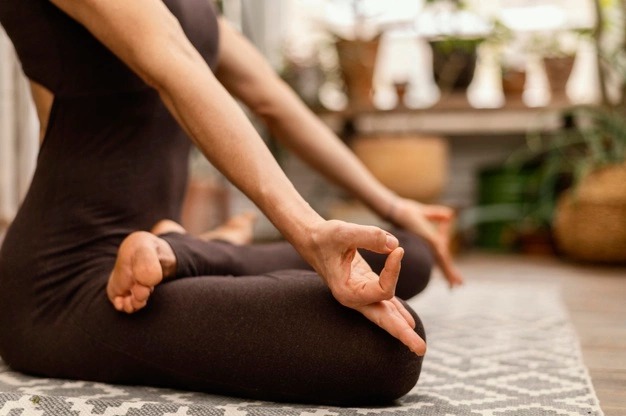 In order to achieve all its benefits, it is important to be persistent in your efforts and carry on the entire process for a long time. One important thing is also that you should believe in what you are doing, start and continue with a positive mindset that whatever you are doing is going to benefit your mind and body and you will surely see the results.
To know more about our Meditation program please click here